62 percent COPD cases are diagnosed incorrectly: BOLD Study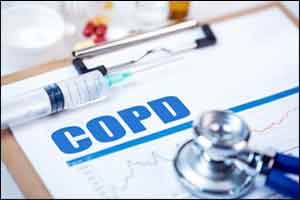 Chronic obstructive pulmonary disease (COPD) is diagnosed incorrectly in about 62% of the cases, reveals BOLD study published in the
Chest
journal.
The study emphasizes the need for better identification of patients with COPD and not overdiagnosing it. Performing spirometry before and after bronchodilator administration is essential for making a diagnosis.
The Burden of Obstructive Lung Disease (BOLD) initiative is an ongoing population-based international study designed to estimate COPD prevalence. Previously, it has shown 81% of COPD cases to be underdiagnosed worldwide.
The present study by Andreas Horner, Department of Pulmonology, Kepler University Hospital, Linz, Austria, and colleagues described the overdiagnosis and the prevalence of spirometrically defined false-positive COPD, as well as their relationship with overtreatment across 23 population samples in 20 countries participating in the BOLD Study between 2003 and 2012.
Also Read: Transient opioids use significantly associated with exacerbation of COPD, finds study
Key findings include:



Among 16,177 patients, 919 (5.7%) reported receiving previous medical diagnoses of COPD; however, spirometry that was performed during the study showed that only 38% of such patients had postbronchodilator FEV

1

/FVC ratios (forced expiratory volume in 1 second: forced vital capacity) lower than the lower limit of normal.




62% of patients who received COPD diagnoses from physicians were considered to have false-positive COPD.




Using the more widely used GOLD definition of obstruction (FEV

1

/FVC <0.7), the false-positive rate was 55%.




Even when patients with histories of asthma were excluded, 34% of patients with false-positive COPD were using inhaled medications.



Also Read: Processed meat intake associated with increased COPD risk
"The main message of the study is the unreliability and overdiagnosis of COPD using a "doctor's diagnosis": the real issue is that these results are of paramount importance for epidemiologic studies but of little clinical relevance. Only a minority of patients examined in the BOLD study and identified by airflow limitation fit with the evidence used by guidelines to make recommendations," Lowie E.G.W. Vanfleteren, University of Gothenburg, Gothenburg, Sweden, and colleagues wrote in an accompanying editorial.
"False-positive COPD is frequent. This might expose nonobstructed subjects to possible adverse effects of respiratory medication," concluded the study authors.
To read the complete study log on to
https://doi.org/10.1016/j.chest.2019.01.015