Choroid layer thickness significantly in untreated Diabetics : Study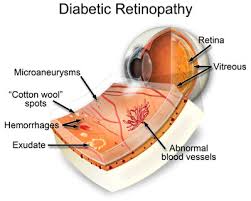 Diabetic retinopathy is a diabetes complication caused by damage to the blood vessels of the retina.It has a prevalence of 18% in an urban population with diabetes mellitus in India. Choroidal thickness changes in diabetic retinopathy and helps to make a better understanding of etiology and management of this disease.In a new study, the researchers have found that Choroidal layer Choroid layer thickness significantly in untreated Diabetics.
Dr Hiroaki Endo et.al conducted a study to examine the thickness of the choroidal layer in patients with diabetes mellitus (DM) and normal individuals and to compare the findings based on medical history of systemic DM treatments and evaluate the stage of diabetic retinopathy (DR).
The study included 268 eyes of 134 DM. patients and the research design involved case-control study and age‐matched 72 healthy controls of 92 eyes.The study measured Central choroidal layer thickness (total, inner, and outer layers) using enhanced depth imaging OCT. DM patients were divided into two groups; the DM treated group (88 cases), and the untreated group (46 cases). These two groups were further classified into four groups; no DR (NDR), mild/moderate non‐proliferative DR (mNPDR), severe NPDR and PDR.The study measured and compared subfoveal choroid layer thickness in control and diabetic patient groups.
Choroidal thickness measurements of diabetic eyes had a strong correlation between masked raters in choroidal layers, proving high reproducibility. The total and outer choroid thicknesses in mNPDR in the DM untreated group were significantly thinner than normal controls (each P<0.05). A choroidal outer layer thickness of the severe NPDR in the DM untreated group was significantly thicker than normal controls (P<0.05). In the DM treatment group, there were no significant differences from the control group regarding choroidal layer thicknesses and all stages of DR.
The study concluded that the choroidal thickness significantly changed in the Diabetes mellitus untreated group.
The article has been published in the journal Clinical and Experimental Opthalmology
For more reference log on to:
https://doi.org/10.1111/ceo.13199