Cholecystectomy: Govt. of India Standard treatment guidelines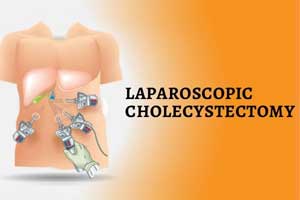 Ministry of Health & Family Welfare Govt. of India has released Standard treatment guidelines General surgery. Dr Ajit Sinha Department of Surgery Safdarjung Hospital New Delhi is group head coordinator of the development team and Dr Arun Prasad has developed the guideline on Cholecystectomy.
Cholecystectomy is one of the commonest elective surgical procedure performed in India. Most are performed to address symptoms related to biliary colic from cholelithiasis, to treat complications of gallstones (eg, acute cholecystitis, biliary pancreatitis), or as incidental cholecystectomies performed during other open abdominal procedures. Currently, most cholecystectomies are done using the laparoscopic technique in cities; however, the open technique is required in places where facilities or trained staff are not available.
Cholecystectomy implies the surgical resection the gall bladder. In India, the incidence of gall stones is around six per cent of the total population. It is 10 per cent of women and three per cent in men. In elderly people, it may go up to 20 per cent.
INDICATIONS:
Asymptomatic patients
Cholecystectomy is not indicated in most patients with asymptomatic stones because only 2-3% of these patients go on to become symptomatic per year. To properly determine the indications for elective cholecystectomy, the risk of the operation (taking into account the age and comorbid factors of the individual patient) must be weighed against the risk of complications and death without operation.
The widespread use of diagnostic abdominal ultrasonography has led to the increased detection of clinically unsuspected gallstones. This, in turn, has given rise to a great deal of controversy regarding the optimal management of asymptomatic (silent) gallstones.
Patients who are immunocompromised, are awaiting organ allotransplantation, or have sickle cell disease are at higher risk of developing complications and should be treated irrespective of the presence or absence of symptoms.
Additional reasons to consider prophylactic cholecystectomy include the following:
· Calculi >3 cm in diameter, particularly in individuals in geographical regions with a high prevalence of gallbladder cancer
· Chronically obliterated cystic duct
· Nonfunctioning gallbladder
· Calcified (porcelain) gallbladder
· Gallbladder polyp >10 mm or showing a rapid increase in size
· Gallbladder trauma
· Anomalous junction of the pancreatic and biliary ducts
· Morbid obesity is associated with a high prevalence of cholecystopathy, and the risk of developing cholelithiasis is increased during rapid weight loss. Routine prophylactic cholecystectomy prior to gastric bypass (RYGB) is controversial, but cholecystectomy should clearly precede or be performed at the time of RYGB in patients with a history of gallbladder pathology.
Symptomatic gallstone disease
Biliary colic with sonographically identifiable stones is the most common indication for elective cholecystectomy.
Acute cholecystitis, when diagnosed within 72 hours from the onset of symptoms, can and usually should be treated by surgery. Once 72 hours pass after the onset of symptoms, inflammatory changes in the surrounding tissues are widely believed to render dissection planes more difficult. Interval cholecystectomy after 4-6 weeks or percutaneous cholecystostomy are other options.
Biliary dyskinesia should be considered in patients who present with biliary colic in the absence of gallstones, and cholecystokinin–diisopropyl iminodiacetic acid (CCK-DISIDA) scanning should be obtained. The finding of a gallbladder ejection fraction <35% at 20 minutes is considered abnormal and constitutes another indication for cholecystectomy.
Complex gallbladder disease
Gallstone pancreatitis
Cholecystectomy can be safely performed during the same hospitalization after the clinical signs of mild to moderate biliary pancreatitis have resolved. Patients diagnosed with gallstone pancreatitis should first undergo imaging to rule out the presence of choledocholithiasis. Cholecystectomy should be delayed in cases of acute moderate to severe biliary pancreatitis (5 Ranson criteria).
Choledocholithiasis
The following treatment options are available for patients found to have choledocholithiasis:
Preoperative ERCP with sphincterotomy
Postoperative ERCP with sphincterotomy
Laparoscopic intraoperative cholangiogram with laparoscopic common bile duct (CBD) exploration
Open CBD exploration and T-tube placement
Mirizzi syndrome
Mirizzi described an unusual presentation of gallstones that, when lodged in either the cystic duct or the Hartmann pouch of the gallbladder, externally compressed the common hepatic duct, causing symptoms of obstructive jaundice.
Although an initial trial of dissection may be performed by an experienced laparoscopic biliary surgeon, one must be prepared for conversion and for biliary reconstruction.
Endoscopic stone fragmentation at ERCP, with papillotomy and stenting, is a viable alternative to operative surgery to treat Mirizzi syndrome in the acute setting.[24 ]Subsequent cholecystectomy may be performed.[25 ]
Cholecystoduodenal fistula
Patients with cholecystoduodenal fistula leading to gallstone ileus should undergo exploratory laparotomy and removal of the stone, followed by an exploration of the remainder of the gastrointestinal tract for additional stones. The fistula may be addressed at the time of the initial procedure but is probably better addressed at a second operation (3-4 wk postoperatively) after inflammation has subsided.[25 ]
Cholecystenteric fistula does not represent an absolute contraindication to laparoscopic surgery, although it does require careful visualization of the anatomy and good laparoscopic suturing skills.
Acalculous cholecystitis
A greater proportion of patients with acalculous cholecystitis are too ill to undergo surgery. In these situations, percutaneous cholecystostomy guided by CT or ultrasonography is advised. Ninety per cent of these patients demonstrate clinical improvement. Once the patient has recovered, the cholecystostomy tube can be removed, usually at 6 weeks, without sequelae. Interval cholecystectomy is not necessary.[27 ]
Incidental gallbladder cancer
Gallbladder cancer may be an incidental finding at cholecystectomy, with an incidence ranging from 0.3- 5.0%.
Uncertainty of diagnosis, the uncertainty of the degree of tumour spread, or postoperative identification of cancer on pathological examination of a routine cholecystectomy specimen should engender early reoperation.
Before reoperation, distant metastases should be excluded by a detailed clinical examination including a per-rectal/per-vaginal examination, examination for supraclavicular lymph nodes, and CT/MRI of the chest and abdomen.
Special situations
Children
Cholecystectomy is a safe and effective treatment for most children diagnosed with the biliary disease (BD).
Cirrhosis
Cholecystectomy in safe in patients with Child class cirrhosis.
Diabetes mellitus
The presence of diabetes mellitus, in and of itself, does not confer sufficient risk to warrant prophylactic cholecystectomy in asymptomatic individuals.
However, consider that acute cholecystitis in a patient with diabetes is associated with a significantly higher frequency of infectious complications such as sepsis.
Pregnancy
The treatment of biliary colic or uncomplicated cholecystitis in a pregnant patient is conservative management followed by elective cholecystectomy. Using antibiotics, analgesics, and antiemetics help most pregnant women avoid surgical intervention. Surgery is generally indicated for patients with recurrent acute cholecystitis who have failed maximal medical therapy.
Classically, the second trimester is considered the safest time for surgery. This is because of the findings of increased risk for spontaneous abortion and teratogenesis during the first trimester, and the increased risk for premature labour and difficulties with visualization in the third trimester.
Pregnancy was formerly considered to be an absolute contraindication to the laparoscopic approach because of concern for potential trocar injury to the uterus and the unknown effects of pneumoperitoneum to the fetal circulation. However, this has not been borne out in the literature, and cholecystectomy is now considered safe.
Recommendations for pregnant patients who undergo laparoscopic cholecystectomy include placing them in the left lateral recumbent position to shift the weight of the gravid uterus off the vena cava and maintenance of insufflation pressures between 10 and 12 mm Hg. In addition, maternal PaCO 2 monitoring must be performed by measuring either arterial blood gases or end-tidal CO 2, but arterial PaCO 2 may be more accurate.
Other recommendations include avoiding rapid changes in intraperitoneal pressures, avoiding rapid changes in patient position, and using an open technique for the umbilical port placement.
Distance from medical centres
In India, another indication can be the distance from a treating hospital as long travel that may be needed can lead to complications.
INVESTIGATIONS:


Haemogram


Liver Function Tests


Blood sugar


Serum creatinine


Bleeding time, clotting time and prothrombin time


Xray chest


ECG


USG abdomen


In patients with dilated common bile duct or raised liver functions, MRCP or ERCP may be indicated based on availability. Alternatively, an on-table cholangiogram or CBD exploration may be done during surgery. Patient can be referred to another centre in case of non-availability of expertise or experience.


OPERATIVE TECHNIQUES:
Principles of surgery remain the same regardless of whether it is being done by open or laparoscopic techniques.


Safe access to the abdomen.


Clear definition of anatomy in the calots triangle showing either the continuity between the cystic duct and gall bladder or junction between the cystic duct and common bile duct.


Avoiding diathermy close to the common bile duct.


Securing the cystic artery safely and close to the gall bladder.


Dissection from liver bed staying close to the gall bladder.


Early conversion to open procedure in case of a difficult laparoscopic surgery.


REFERRAL CRITERIA:


Common bile duct stones if no facilities for management available.


Suspected gall bladder cancer.


Bile duct injury during surgery. The patient should be referred to a tertiary centre as soon as possible.


WHO DOES WHAT?
Doctor:
a) Surgeon: diagnosis & work up
Preoperative planning
Operative procedure
Postoperative follow-up
b) Anaesthetist: PAC, anaesthesia, post-op ICU management
NURSE:


Dressing of the wound


Pre & post-operative care


TECHNICIAN:


Pre-op equipment and drugs to be checked and kept ready


Assist anaesthetist in the OT


Assist the surgeon, positioning of the patient


RESOURCES REQUIRED FOR ONE PATIENT / PROCEDURE (Patient weight 60 Kgs)




Human Resources


Investigations


Drugs/Consumables


Equipment




Surgeon – 1

Medical Officer /

Assistant Surgeon – 1

Anaesthetist – 1

Pathologist – 1

Staff Nurse – 1

Technician – 1

Nursing Orderly – 1

Sweeper – 1


Haemogram

LFT

Blood Sugar

S. Electrolytes

KFT

ECG

X-Ray – Chest

USG

Histopathology


Antibiotics

Analgesic

I.V. Fluids

Sutures

Drains

Catheters

Anaesthetic drugs

Dressings


OT Table & lights

Instrument trolley

Laparoscopic Surgery set

General Surgery Set

Cautery

Suction

Anesthetic Equipment

Monitors




For further reference log on to:
Cholecystectomy: Govt. of India Standard treatment guidelines
Source : Govt. of India