Chinese surgeon performs first-ever remote brain surgery using 5G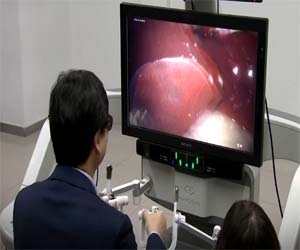 A Chinese surgeon conducted the first ever remote surgery using 5G technology on a human brain on Saturday. The surgery was made possible through a collaborative effort by tech companies Huawei, the Chinese PLA General Hospital and China Mobile.
The first remote brain surgery using 5G technology was performed while the patient was more than 1,800 miles away, according to local media. The patient has Parkinson's disease. He received a deep brain stimulation (DBS) implant in Beijing on Saturday during a procedure that lasted for three hours.
The surgeon, Dr.Ling Zhipei, implanted a neuro-stimulator, or 'brain pacemaker' into the patient with Parkinson's disease at the Chinese PLA General Hospital in Beijing by operating medical equipment through transmitted images supported by 5G technologies. The procedure lasted three hours.
The process was made possible with the low-latency 5G technology provided by Huawei and China Mobile, which enabled near instantaneous data transmission.
The doctor Ling described the operations as almost like a real-time operation -- he didn't even feel like the patient was 3,000 km away.
The landmark surgery is a big step toward surgeons from premier hospitals conducting more remote surgeries on patients located in far-flung areas or in disaster situations, and completing operations which were previously difficult to finish at the grassroots-level hospitals, said Ling.
In January, China also performed the first 5G remote surgery. It was, however, on a laboratory animal, and involved removing the animal's liver, which was completed successfully.
The big advantage of using a 5G network for remote surgery is the reduced latency it offers, according to PCMag. The lower the latency, the more responsive the surgery robot will be to the surgeon's actions tens or hundreds of miles away.
It then reduces the chances of mistakes being made and allows the surgeon to work as if they are actually present in the same room — or as Ling described "barely feel that the patient is 3,000 kilometres away."