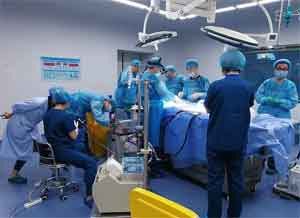 A 49-year-old woman who died due to lung cancer has become first Chinese person to be cryogenically frozen by Chinese scientists on request of her husband and son. 
The moot question is "can one become alive after death?" In a search of life after death, the Chinese scientists for the first time are going to revive a woman after her death. It is the first case in the China, where the Chinese Scientists froze a woman's body who died due to the lung cancer in a hope to revive her in future.
In a hope of reviving her, the Chinese scientists used the "Cryonics", a practice in which a body is 'frozen' shortly after death with the hope that when technology catches up, they will be able to revived.
In cryonics, as soon as a person's heart stops beating, it must be rapidly cooled – but not technically frozen.
According to the media report, after her death, 49-year-old Zhan Wenlian's husband volunteered her to be frozen in liquid nitrogen for the "life preservation project". The procedure will have Zhan submerged in 2,000 liters of the liquid at the Yingfeng Biological Group in Jinan at -196 degrees Celsius in a 55-hour procedure which is said to have cost Rs 1.9 crores, reports Express.
The project was carried out by collaboration between the Yinfeng Biological Group and US firm Alcor Life Extension Foundation.
Director Jia Chusheng of Yinfeng Biological Group said that although there is a chance the procedure will not work, it gives the husband and wife hope for the future.
Mr Junmin told UK Express "I tend to believe in new and emerging technologies, so I think it will be completely possible to revive her.
"If my wife wakes up, she might be lonely. I need to keep her company."