Children with fever over prescribed wide range of antibiotics: Lancet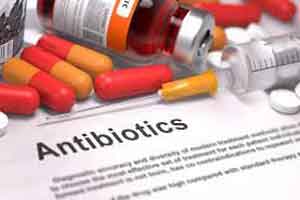 Antibiotic prescription in children attending European pediatric emergency departments is highly variable, with many of those children showing up with a fever being discharged with a broad-spectrum antibiotic, according to recent findings that appeared in the journal The Lancet Infectious Diseases. The high frequency of prescriptions also raises the issue of over prescription and irrationality toward prescribing antibiotics.
Antibiotic stewardship aims at a more rational use of antibiotics in children in emergency departments to take care of antimicrobial resistance.
Josephine van de Maat, Department of General Paediatrics, Erasmus Medical Center Sophia Children's Hospital, Rotterdam, Netherlands, and colleagues conducted the study to quantify and explain variability in antibiotic prescription in children attending European pediatric emergency departments.
The cross-sectional study involved analysis of more than 5,100 children admitted to 28 emergency departments in 11 countries across Europe over a 16-month period. It found that about a third of the children who presented with a fever but no other illnesses received an antibiotic on discharge, with the prescribing frequency ranging from 19% in Switzerland to 64% in Turkey.
More than 60% of those prescriptions, which were written mainly for respiratory tract infections, were for second-line antibiotics.
The findings indicate the occurrence of a significant amount of overprescribing, particularly in children with respiratory infections and the drivers of this inappropriate prescribing need to be identified and addressed at the hospital and national level, write the authors. The study, however, did not evaluate whether the antibiotics were appropriately prescribed.
The study of hospitals participating in the Research in European Pediatric Emergency Medicine (REPEM) network looked at emergency department visits by children aged 1 month to 16 years who presented with a fever on one random sampling day per month from November 2014 to February 2016.
The researchers then determined the proportion of those children without comorbidities who received antibiotics on discharge by country, type of infection, and type of antibiotic. They then performed a detailed analysis of that population to assess the factors that influenced variability in prescribing.
Also Read: 70% infants with bronchiolitis prescribed antibiotics inappropriately
Key Findings:


Of the 5,177 children who were included in the analysis, 617 (12%) had comorbidities.


Of the 4,560 children without comorbidities, 1,454 (32%) received an antibiotic, and 893 (61%) of those prescriptions were for second-line antibiotics, which included doxycycline, broad-spectrum penicillins, and second- and third-generation cephalosporins.


The countries with the highest prescribing rates (Turkey, the United Kingdom, Hungary, Italy, and Romania), were also the most frequent prescribers of second-line antibiotics.


When the researchers looked at the type of infections for which antibiotics were prescribed in children without comorbidities, they found that respiratory tract infections (upper and lower) accounted for 83% (1,208 of 1,454) of all prescriptions.


The variation in prescribing frequency across hospitals was even greater for these infections, ranging from 15% (Switzerland) to 67% (Turkey) for upper respiratory tract infections and 24% (Switzerland) to 87% (Turkey) for lower respiratory tract infections.


Analysis of patient characteristics found that older age, longer duration of fever, blood concentrations of C-reactive protein, and chest x-ray results were all associated with the increased likelihood of receiving an antibiotic prescription.


After the researchers adjusted their analysis to account for patient characteristics, diagnostic assessment, and hospital characteristics (hospital type and national healthcare system), they found the rate of antibiotic prescribing for respiratory infections was still highly variable across hospitals and countries, which suggests others factors are involved.


Also Read: More than 50% of outpatient antibiotic prescriptions inappropriate: BMJ
"Even though specific determinants of antibiotic prescription could be identified in the whole population of patients, differences in patient mix, diagnostic assessment, or hospital characteristics could not explain all variability in an antibiotic prescription, write the authors.
What could explain the variability? As van de Maat and her colleagues explain, even though most respiratory infections are viral in nature and don't require antibiotics, bacterial causes can't be ruled out. But since there is no gold standard for diagnosing bacterial respiratory tract infections, diagnostic uncertainty could influence the decision to prescribe an antibiotic.
The diagnostic uncertainty could play a bigger role in hospitals in Turkey, where estimated mortality for bacterial pneumonia in children under 5 is significantly higher than it is in western European countries, Elise Launay, and Christele Gras Le Guen, of Centre Hospitalier Universitaire de Nantes in France, explain in an accompanying commentary.
"When in doubt, clinicians generally might prescribe antibiotics, thinking that the treatment would be less harmful than missing a severe bacterial infection," they write. "Pneumonia is a good example of a doubtful situation that could explain why children with lower respiratory tract infections showed the most variation in antibiotic prescription frequency."
But, they note, that wouldn't explain why the prescribing rates for lower respiratory tract infections in hospitals were also high in countries like the United Kingdom and Italy, where mortality rates for pediatric bacterial pneumonia are lower.
Whatever the reasons, van de Maat and her colleagues suggest that identifying the source of the problem is critical for stewardship efforts across the continent.
"To ensure successful antibiotic stewardship initiatives in Europe aimed at reducing unnecessary prescription of antibiotics, variability of prescription across hospitals should be considered, drivers of suboptimal antibiotic prescription at the local level need to be identified, and European guidelines need to be devised," they write.
For further reference log on to
https://doi.org/10.1016/S1473-3099(18)30672-8
Source : With inputs from Lancet Infectious Diseases