Childhood vaccinations do not increase risk of allergy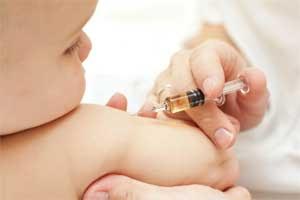 A new research reports that there is no support for the claim that childhood vaccinations can increase the risk of allergy. The study is published in EClinical Medicine, a new open access journal published by The Lancet.
Since most children are vaccinated according to the national vaccination program, it has been difficult to study whether there is a link between vaccination and childhood allergies.
Earlier research has shown that, for reasons as yet unknown, children with an anthroposophic lifestyle develop fewer allergies than others. The anthroposophic lifestyle is characterized by, for instance, a preference for home deliveries, a long period of breastfeeding, a diet of organic/biodynamic products emphasizing vegetarian components, and a restrictive use of antibiotics and antipyretics
Read Also: Tips for protection from vaccine administration injures
Jackie Swartz and associates conducted a study to investigate if a restrictive vaccination program within a prospectively assessed population was associated with the risk of allergic sensitization.
This study is based on ALADDIN(Assessment of Lifestyle and Allergic Diseases During Infancy), a prospective birth cohort study that focuses on the impact of lifestyle and environmental factors during pregnancy and childhood on the development of allergic disease.
The study included one group from the anthroposophic community, with restrictive attitudes concerning vaccinations, and two other groups of age-matched children with more conventional parental lifestyles.
All 466 children included in the study were followed from birth to five years of age. Detailed vaccination data and blood samples were collected at six months, one, two, and five years.
Read Also: Repeat vaccination is safe for most kids with mild to moderate reactions
"We found no support for an association between early childhood vaccination and subsequent allergic sensitization. Our findings do not support skepticism towards early childhood vaccination motivated by allergy risk,"write the authors.
The investigators found no evidence of a relation between vaccination and allergic sensitization after adjusting for gender, socio-economic status, some established allergy risk factors, and anthroposophic lifestyle. Moreover, the authors compared the incidence of allergic sensitization at two and five years of age in those who had or had not received MMR vaccination, but they found no association with allergic sensitization.
For full information log on to https://doi.org/10.1016/j.eclinm.2018.10.005
Source : With inputs from EClinical Medicine