Childbirth increases breast cancer risk in young women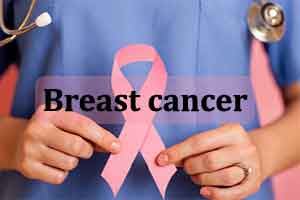 Contrary to the popular belief that childbirth provides protection against breast cancer, a new study suggests that childbirth does not avert the breast cancer risk instantly. In fact, it might take a considerably long time of about 2 decades to emerge.
The study, published in the Annals of Internal Medicine, finds that parous women have an increased risk of breast cancer for more than 20 years after childbirth compared with nulliparous women. Researchers also found that childbirth may lower breast cancer risk in women only above a certain age. In fact, they found that women aged 55 or younger who had recently given birth experienced elevated risk levels.
Childbirth has commonly known to provide protection against breast cancer, however, the breast cancer risk may be increased shortly after childbirth. Till now there are no studies on how this risk varies with breastfeeding, family history of breast cancer, or specific tumor subtype.
The risk of developing breast cancer differs between individuals. Hazel B. Nichols, the University of North Carolina in Chapel Hill, North Carolina, and colleagues conducted this pooled analysis of 15 prospective studies to characterize breast cancer risk in relation to recent childbirth.
For the study, the authors examined data from 15 studies from around the world. They looked at over 800,000 women with a specific focus on factors that other studies on the topic had overlooked. This included things that could affect breast cancer risks, such as family history of the disease and breastfeeding.
Key Findings:


Breast cancer risk elevated in women who had given birth and were aged 55 or younger.


This risk hit its highest point about 5 years after women had given birth. At this time, mothers in this age range had an 80 percent higher chance of developing breast cancer compared with those women who had not gone through childbirth.


This risk was more prominent for women who fit into one of three categories: those who had a family history of breast cancer, people who were older at the time of their first birth, or those who had had more children overall. Breastfeeding appeared to have no impact.


The elevated breast cancer risk disappeared 23 years after childbirth. After more than 2 decades, women began to experience a form of protection from the disease.


"What most people know, is that women who have children tend to have lower breast cancer risk than women who have not had children, but that really comes from what breast cancer looks like for women in their 60s and beyond," says Nichols.
"We found that it can take more than 20 years for childbirth to become protective for breast cancer and that before that, breast cancer risk was higher in women who had recently had a child." he further added.
Not all younger women had the same risk levels. For example, women who had their first child after the age of 35 had a higher risk, while those who experienced childbirth before the age of 25 saw no increased risk.
However, the overall chance of getting breast cancer was still relatively low for any woman who had given birth.


Breast cancer is less common among young women, making some of these results less surprising than others. However, the findings could help educate medical staff and the public — especially those who may believe that childbirth immediately protects them against breast cancer.

Scientists could also use these findings to develop a more useful model for breast cancer risk. In turn, this could lead to more effective screening and prevention methods.

"This is evidence of the fact that just as breast cancer risk factors for young women can differ from risk factors in older women, there are different types of breast cancer, and the risk factors for developing one type versus another can differ," concluded Nichols.


Source : With inputs from Annals of Internal Medicine