Cervical Lymphadenopathy - Standard Treatment Guidelines
Lymphadenopathy is an abnormal increase in size and/ or altered consistency of lymph nodes. It is a clinical manifestation of regional or systemic disease and serves as an excellent clue to the underlying disease. Cervical lymphadenopathy (C.L.) is a fairly common clinical presentation.
Ministry of Health and Family Welfare, Government of India has issued the Standard Treatment Guidelines for Cervical Lymphadenopathy. Following are the major recommendations:
Surgical anatomy and classification :
Cervical lymph nodes are lymph nodes found in the neck. There are approximately 300 lymph nodes in the neck
Cervical lymph nodes are classifieds into 7 groups. They are-


Level I: Submental and submandibular nodes


o Level Ia: Submental triangle
o Level Ib: Submandibular triangle


Level II: Upper jugular nodes


Level III: Middle jugular nodes


Level IV: Lower jugular nodes


Level V: Posterior triangle group


Level VI: Pre-tracheal, pre-laryngeal and post-tracheal


Level VII: Mediastinal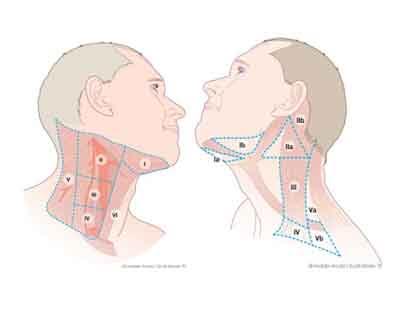 Incidence
- Age < 30 - 79% benign; 15% lymphomatous; 6% carcinomas
- Age > 50 - 40% benign; 16% lymphomatous; 44% carcinomas
- 0.6 annual incidence of generalized lymphadenopathy
Differential diagnosis
Common infectious causes of lymphadenopathy
1. Adenovirus
2. CMV
3. Enterovirus
4. EBV
5. Varicella
6. Herpes simplex
7. Staphlococcus infection
8. Group A hemolytic Streptococcus
9. Tularemia
10. Brucellocis
11. Tuberculosis
12. Atypical mycobacteria
13. Klebsilla
14. AIDS
15. Bubonic plague
16. Anthrax
Common non-infectious causes of lymphadenopathy
1. Hodgkin's disease
2. Lymphomas
3. Leukemia
4. Metastatic disease
5. Histiocytosis
6. SLE and JRA
7. Kawasaki Disease
8. Sarcoidosis
Symptoms and signs :
1. Neck Swelling
Lymph node character
i) Stone hard: typical of cancer usually metastatic
ii) Firm rubbery: can suggest lymphoma
iii) Soft: infection or inflammation
iv) Matting: tubercular
2. Pain-
(i) Painful lymph node present in acute inflammatory condition.
(ii) Painless lymph node mainly present in granulomatous or malignant conditions
3. Size - Rapid increase in size could be due to malignancy.
Evaluation
1. Laboratory studies


CBC count, including a careful evaluation of the peripheral blood smear. An erythrocyte sedimentation rate is nonspecific but may be helpful.


Evaluation of hepatic and renal function and a urine analysis are useful to identify underlying systemic disorders that may be associated with lymphadenopathy.


Additional studies, such as lactate dehydrogenase (LDH), uric acid, calcium, and phosphate, may be indicated if malignancy is suspected. Skin testing for tuberculosis is usually indicated.


In evaluating specific regional adenopathy, lymph node aspirate for culture may be important if lymphadenitis is clinically suspected.


Titers for specific microorganisms may be indicated, particularly if generalized adenopathy is present. These may include Epstein-Barr virus, cytomegalovirus (CMV), Toxoplasma species, and human immunodeficiency virus (HIV).


2. Imaging studies


Chest radiography is usually the primary screening imaging study. Additional imaging studies are usually based on abnormal chest radiograph findings. Chest radiography is often helpful in elucidating mediastinal adenopathy and underlying diseases affecting the lungs, including tuberculosis, coccidioidomycosis, lymphomas.


CT scan and MRI especially helpful in case of metastatic disease to know the extent of involvement.


Nuclear medicine scanning is helpful in the evaluation of lymphomas.


Ultrasonography may be helpful in evaluating the changes in the lymph nodes and in evaluating the extent of lymph node involvement in patients with lymphadenopathy.


3. Fine Needle aspiration Cytology
4. Lymph Node Biopsy / Excisional Biopsy
Management
1. Treatment with antibiotics (covering the bacterial pathogens frequently implicated in lymphadenitis) followed by re-evaluation in 2-4 weeks is reasonable if clinical findings suggest lymphadenitis. Benign reactive adenopathy may be safely observed for months. Infectious lymph adenopathy usually requires treatment with appropriate antibiotics.
2. Granulomatous condition requires address of general condition, and treatment with steroids and immunoglobins depending on conditions.
3. In cases of malignant conditions, patient can be managed on different modality of treatment viz chemotherapy, radiotherapy or surgery depending on type and stage of malignancy.
Guidelines by The Ministry of Health and Family Welfare :
Dr J M Hans Ex-HOD Dept. of Otorhinolaryngology Dr.RML Hospital New Delhi