................................ Advertisement ................................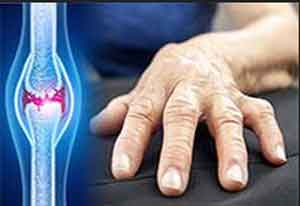 Dr. Sofat N from Institute for Infection and Immunity, St George's University of London and associates in a  Single-blind study have concluded that centrally acting analgesics improve pain outcomes in people with hand arthritis, offering new treatment paradigms for OA pain.Researchers have undertaken the world's first drug trial aiming to tackle the pain caused by osteoarthritis in patients' hands.The proof-of-concept trail has been published in The Journal of Pain Research.
Osteoarthritis is the most prevalent arthritis worldwide and is characterized by chronic pain and impaired physical function.Millions of people across the UK suffer from debilitating hand pain due to the condition and the usual care is ibuprofen and anti-inflammatory drugs.Certain people are more prone to osteoarthritis in the hands, for example, women aged over 50.
Patients are usually also sent for hand physiotherapy, but some say they can't continue the therapy because of the pain. However, taking part in hand physiotherapy is proven to be beneficial in the long term in preventing hands from losing movement.
................................ Advertisement ................................
The study by staff at the St George's University of London showed that a drug called pregabalin was the most effective trial treatment. Patients took two pills daily and were treated during a three month period.
Dr Nidhi Sofat, a Reader in Rheumatology, said: "Osteoarthritis is the most common form of arthritis in the world and more than 8m people have it in the UK.
................................ Advertisement ................................
"Usually, drug trials for arthritis are aimed at helping patients with problems in their knees or hips, but we wanted to focus on hands as no one had really investigated that area before.
"To tackle the pain would mean an improvement in the general wellbeing and care of patients with this condition. This led us to run a trial to try to switch off the pain receptors in the brain to enable patients to manage their condition more easily.
"They reported an improvement in not only pain but also their abilities to do daily tasks like cooking, washing dressing. They also used six times less extra pain relief than the placebo group."
The trial involved giving 65 patients different medication and monitoring their progress. During the drugs trial patients were split into groups and one group took pregabalin, the second group took duloxetine and the third group took placebo pills.
All the drugs looked the same so the patients did not know what they were taking.
The authors concluded that centrally acting analgesics improve pain outcomes in people with hand arthritis, offering new treatment paradigms for OA pain.
The study was funded by Rosetrees' Trust and the National Institute for Health Research (NIHR).
For more details click on the link: DOI https://doi.org/10.2147/JPR.S147640
Dr Kamal Kant Kohli-MBBS, DTCD- a chest specialist with more than 30 years of practice and a flair for writing clinical articles, Dr Kamal Kant Kohli joined Medical Dialogues as an Editor-in-Chief for the Speciality Medical Dialogues section. Besides writing articles, as an editor, he proofreads and verifies all the medical content published on Medical Dialogues including those coming from journals, studies,medical conferences,guidelines etc.
Before Joining Medical Dialogues, he has served at important positions in the medical industry in India including as the Hony. Secretary of the Delhi Medical Association as well as the chairman of Anti-Quackery Committee in Delhi and worked with other Medical Councils in India. Email: editorial@medicaldialogues.in. Contact no. 011-43720751
To know about our editorial team click here
................................ Advertisement ................................