Central serous retinopathy associated with topical oral steroid gel use: a case report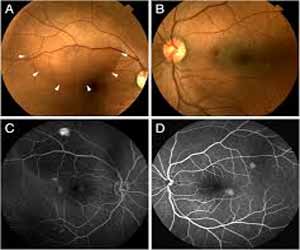 Dr Preston O'Brien at Austin Retina Associates, Austin, Texas, USA and colleagues have reported a rare case of Central serous retinopathy associated with topical oral corticosteroid use. The case has appeared in the Journal of Medical Case Reports.
Central serous chorioretinopathy (CSCR) is the fourth most common retinopathy after age-related macular degeneration, diabetic retinopathy and branch retinal vein occlusion.CSCR typically occurs in males in their 20s to 50s who exhibit acute or sub-acute central vision loss or distortion. Other common complaints include micropsia, metamorphopsia, hyperopic (most common) or myopic shift, central scotoma, and reduced contrast sensitivity and colour saturation.No underlying pathophysiologic mechanisms have been proven, but CSCR is thought to occur due to hyper-permeable choroidal capillaries, which, in association with retinal pigment dysfunction, cause a serous detachment of the neurosensory retina. Recurrence occurs in about 31% of patients with CSCR, though the recurrence rate has been quoted to be up to 50% in most texts.
The disease was first recognized by Albrecht von Graefe in 1866 and was named central recurrent retinitis.
Oral topical corticosteroid gels are widely used in dental medicine. Case studies of central serous retinopathy have been reported following administration of corticosteroids, but none so far coinciding with the use of topical fluocinonide gel. This case report further contributes to the database of potential risks of corticosteroid use.
A 40-year-old South Asian woman presented with decreased vision, pigment epithelial detachments, and serous retinal detachments in both eyes 1 month after starting treatment with topical fluocinonide 0.05%, a topical oral corticosteroid gel. Her condition resolved 6 months after discontinuing the use of the steroid.
To the best of our knowledge, this is the first case of idiopathic central serous retinopathy associated with the use of oral fluocinonide gel. Discontinuing the use of the steroid may result in resolution of the serous retinal detachment and improvement of visual symptoms. Patients and their doctors who prescribe this medication should be aware of this association.
Source : Press Release