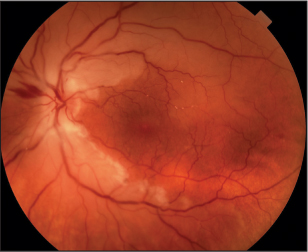 Patients with Central retinal artery occlusion (CRAO) are at significant risk of future cardiovascular and cerebrovascular events and often have undiagnosed risk factors that may be modifiable, according to a study recently published in American Journal of Opthalmology.
Patrick Lavin et al. conducted a cohort study to evaluate the diagnostic yield of an expedited inpatient evaluation of cerebrovascular risk factors in a cohort of patients presenting with an acute CRAO.
Vital signs, laboratory parameters including low-density lipoprotein level, hemoglobin A1c fraction, erythrocyte sedimentation rate, C-reactive protein level, platelet count and troponin level were collected. Echocardiography, cardiac telemetry, magnetic resonance imaging, and cerebrovascular imaging were obtained to screen for strokes and vascular risk factors.
All new diagnoses and clinical treatments stemming from the inpatient evaluation were documented. Outcomes included the frequency of stroke on MRI, hypertensive emergency, critical carotid disease, or critical cardiac disease including high-grade valvular lesions, new myocardial infarction or arrhythmias.
Read Also:How to manage pain following Vitrectomy for Retinal Detachment
The investigators documented the frequency of a change in medication, acute surgical intervention or new diagnosis of systemic disease as a result of the inpatient evaluation. Finally, the rate of symptomatic stroke, myocardial infarction and death risk in the 24 months after CRAO was also evaluated.
Key study findings:
7% of patients had a critical carotid disease.
3% had the coincident acute stroke.
0% presented with hypertensive emergency.
0% had a myocardial infarction or critical structural cardiac disease.
25% underwent an urgent surgical intervention and 93% had a change in medication as a result of the inpatient evaluation.
Patients with CRAO had a similar risk of subsequent stroke, myocardial infarction, and death as patients with a high-risk transient ischemic attack.
Central retinal artery occlusion (CRAO) occurs when the central retinal artery becomes blocked, usually due to an embolus. It causes sudden, painless, unilateral, and  usually monocular vision loss, and is associated with significant functional morbidity
For reference log on to https://doi.org/10.1016/j.ajo.2018.08.027