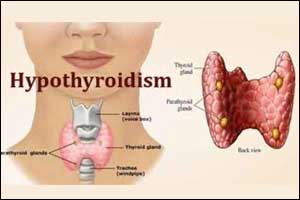 The European Thyroid Association (ETA) has released guidelines on the management and diagnosis of central hypothyroidism (CeH).
The guidelines are published in the European Thyroid Journal.
Indications for Screening and Diagnosis
The diagnosis of CeH should be considered in neonates and children with clinical manifestations of congenital hypothyroidism but low or normal neonatal TSH screening results.
The diagnosis of CeH should be considered in every patient in whom low serum concentrations of free thyroxine (T4) and low or normal thyroid-stimulating hormone (TSH) levels have been found on a screening examination.
Screening for CeH should be performed in all children with a familial history of CeH and/or manifestations of hypothalamic-pituitary defects or lesions, such as failure to thrive, developmental delay, growth hormone (GH) deficiency, and delayed or precocious puberty.
CeH due to IGSF1 defect should be ruled out in adolescents or adult patients with macroorchidism.
Screening for CeH should be carried out in all patients with a personal or familial history of hypothalamic-pituitary lesions or diseases, moderate to severe head trauma, stroke, previous cranial irradiation, hemochromatosis, or iron overload, particularly when hypothyroid manifestations are present.
CeH screening should be performed in all patients with hypothyroid manifestations associated with clinical findings pointing to a hypothalamic-pituitary disease (eg, hyperprolactinemia, acromegalic features, diabetes insipidus, recurrent headaches, visual field defects) and in children with developmental delay. Screening should also be carried out in newborns with hypotonia and/or prolonged jaundice and/or signs of congenital hypopituitarism (eg, micropenis with undescended testes).
The possibility of CeH development should be ruled out in patients with the hypothalamic-pituitary disease after the commencement of recombinant human GH (rhGH) or estrogen replacement therapy.
Means of Diagnosis
Patients should be evaluated for the presence of CeH via the assessment of serum free T4 and TSH levels.
CeH diagnosis should be confirmed by the combined findings of serum free T4 concentrations below the lower limit of the normal range and inappropriately low/normal TSH concentrations on at least two separate determinations, as well as after exclusion of the following:

Nonthyroidal illness
TSHβ mutations.
THRA mutations
Allan-Herndon-Dudley syndrome
Premature birth
Use of drugs that reduce TSH secretion
Defects in T4-binding globulin
Technical assay problems or interference
Recovery from thyrotoxicosis
Levothyroxine (LT4) withdrawal syndrome
Isolated maternal hypothyroxinemia
Genetic Analyses
When causative mutations in candidate genes are found, genetic analyses should be extended to all first-degree relatives for (early) CeH diagnosis or to uncover carrier status.
Management of CeH
LT4 is recommended as first-line treatment for CeH.
In CeH patients, replacement therapy with LT4 should commence only after evidence of conserved cortisol secretion has been obtained. If coexistent central adrenal insufficiency has not been ruled out, thyroid replacement must be started after steroid therapy in order to prevent the possible induction of an adrenal crisis.
In congenital and severe forms of CeH (eg, TSHβ mutations), LT4 treatment should be started as soon as possible (optimally within 2 weeks after birth) at doses used also for primary congenital hypothyroidism (10-12 μg/kg body weight per day), in order to rapidly rescue serum free T4 levels to normal range and secure optimal neurodevelopment as quickly as possible.
In patients with CeH, concomitant free T4 and TSH measurements should be used to check the adequacy of replacement therapy 6-8 weeks after the start of LT4 replacement, provided that blood is withdrawn before the morning replacement dose or at least 4 hours after LT4 administration. Replacement therapy should be aimed at maintaining the free T4 level above the median value of the normal range.
Once adequate thyroid replacement is achieved, pediatric patients with CeH should undergo monitoring of free T4 concentrations according to the age-related reference ranges, and follow-up should be conducted in the same way as in patients with primary hypothyroidism.
Once adequate thyroid replacement is achieved, adult patients with CeH should undergo annual monitoring of free T4.