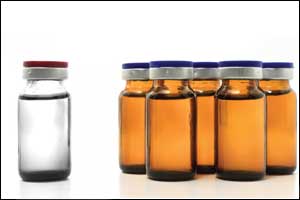 Allergic immediate hypersensitivity (IH) account for <10% of cutaneous reactions, and >50% of life-threatening ones, finds a study of the allergic IH frequency among iodinated and gadolinium-based contrast media (ICM or GBCM). The frequency and severity of IH reactions triggered by GBCM and ICM were comparable. Cross-reactivity was frequent, especially for GBCM.
Olivier Clement, Assistance Publique Hôpital Européen Georges Pompidou, France, and colleagues report findings of the study in the journal EClinicalMedicine. They propose considering the skin testing with pure contrast agent, as it is more sensitive than the usual 1:10 dilution criteria.
Among adverse events to contrast media (CM), IH reactions raise the highest level of concern for radiologists and patients, since they may lead to severe anaphylactic shock within minutes after injection of CM, sometimes leading to death.
Iodinated and gadolinium-based contrast media (ICM; GBCM) induce IH reactions. Differentiating allergic from non-allergic IH is crucial; allergy contraindicates the culprit agent for life.
For the study, the researchers recorded clinical symptoms, plasma histamine and tryptase concentrations and skin tests of the patients recruited in 31 hospitals between 2005 and 2009. Allergic IH was diagnosed by intradermal tests (IDT) with the culprit CM diluted 1:10, "potentially allergic" IH by positive IDT with pure CM, and non-allergic IH by negative IDT.
"Our study has important consequences for daily radiological practice: Contrary to current opinion, GBCM are not safer than ICM regarding IH reactions, and patients should be managed identically. Patients experiencing their first injection of CM are usually considered as not at risk for allergic IH.  However, the present data and data from others indicate that they may be sensitized to CM via some molecule in their environment and should thus be considered as potential reactors," write the authors.
Key Findings:
Among 245 skin-tested patients (ICM = 209; GBCM = 36), allergic IH to ICM was identified in 41 (19.6%) and to GBCM in 10 (27.8%).
Skin cross-reactivity was observed in 11 patients with ICM (26.8%) and 5 with GBCM (50%).
Allergy frequency increased with clinical severity and histamine and tryptase concentrations.
Cardiovascular signs were strongly associated with allergy.
Non-allergic IH was observed in 152 patients (62%) (ICM:134; GBCM:18).
Severity grade was lower and reaction delay longer (11.6 vs 5.6 min).
Potentially allergic IH was diagnosed in 42 patients (17.1%) (ICM:34; GBCM:8).
The delay, severity grade, and mediator release were intermediate between the two other groups.
"A safer approach is to elucidate the mechanism of the reaction through blood and skin testing, and to identify the culprit and cross-reactive agents, thus allowing selection of a safe CM for future opacifications of allergic patients," concluded the authors.