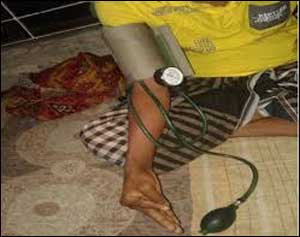 Dr Satyajit -Mallick at  Bangabandhu Sheikh Mujib Medical University (BSMMU), Dhaka, Bangladesh and colleagues have reported a rare case of Bartter syndrome presenting with polyuria, generalized weakness and recurrent tetany in an adolescent male. The case has been published in the American Journal of Medical Case Reports.
Bartter syndrome, originally described by Bartter and colleagues in 1962, represents a set of closely related, autosomal recessive renal tubular disorders characterized by hypokalemia, hypochloremia, metabolic alkalosis, and hyperreninemia with normal blood pressure. The underlying renal abnormality results in excessive urinary losses of sodium, chloride, and potassium. It is very rare and in mildest form may go unrecognized for a long period.
According to history, a 19-year-old student presented to the hospital with an increased frequency of micturition since 4 years of age and generalized weakness and fatigue for the last 6 years. He had an increased frequency of micturition about 8 to 10 times per day, more frequent at night. This was also associated with dry mouth and polydipsia without any documentation of urine volume. 

His weakness was of gradual onset without any diurnal variation which was aggravated by excessive physical activity and relieved partially by rest, fruits, oral saline. It was associated with muscle cramps and pain but not with excessive sweating, palpitation, heat intolerance, carbohydrate-rich meal intake, diarrhoea or vomiting. 
He had recurrent episodes of involuntary painful spasms of hands and feet for last 3 years associated with perioral paresthesia, tingling and numbness of hands and feet . Interestingly each episode tend to be relieved by taking milk. He didn't attain adequate physical growth although having normal nutritional history, an absence of chronic diarrhoea or any other significant systemic disease. 
He was found to have persistent hypokalemia (<3mmol/L) and then prescribed to have Potassium syrup and oral saline without any significant symptomatic or biochemical improvement. After that, he consulted at a tertiary care OPD where he was investigated and found to have hypokalemia, mildly raised serum creatinine and bilateral renal calculi with an early parenchymal disease. His subsequent reports revealed hypocalcemia, hypomagnesemia and high PTH .24 hours urine collection for electrolytes revealed all electrolytes in higher than normal reference value with high 24 hours urinary volume and urinary PH – 6.87. Interestingly arterial blood gas analysis showed alkaline venous plasma (PH 7.529); plasma bicarbonate was 31mmol/l (24-28 mmol/l). The patient was then referred to the Endocrinology department of BSMMU where a diagnosis of Bartter Syndrome with secondary hyperparathyroidism and bilateral nephrocalcinosis was made.
He has managed accordingly with potassium-enriched fruits and intravenous potassium followed by oral supplement, tab. Spironolactone 25mg thrice daily, tab Indomethacin 25mg thrice daily, tab Calcium carbonate 1 gram daily. At present, the patient is on regular follow-up showing remarkable clinical as well as biochemical improvement.
Carry home message-
Recurrent or persistent hypokalemia in a young, normotensive person in the absence of surreptitious diuretic or laxative abuse should arouse the possibility of Barrier syndrome.
The high index of clinical suspicion is required for timely diagnosis and judicious treatment has been shown to improve the prognosis and prevent various complications.
For further reference log on to : DOI: 10.12691/ajmcr-6-7-1