Case study of a unique cause of Acute Urinary Retention
A unique and rare case of urinary retention appeared in Journal of the Association of Physicians of India which reported a rare, surprising cause of urinary retention, namely erosion of Penile prosthesis (PP).
The case described a 55-year-old man presented with a catheter in situ. He had gone to a physician elsewhere with acute urinary retention. He had a catheter inserted and Alpha blockers were started. After 3 weeks of therapy, the physician removed the catheter and trial of voiding was attempted.
His Urethrogram was reported normal and he was referred for further management. His previous medical history revealed that he had PP implanted 7years back on the failure of other measures for erectile dysfunction, following which he had fathered two children. Due to financial problems, the penile prosthesis was put only in the right corpora by the operating surgeon. Preoperative blood and urine investigations were normal.
On review, the Urethrogram showed evidence of extravasation of dye near fossa navicularis. Cystoscopy showed erosion of PP near fossa navicularis. Right corporotomy was done and PP removed. It was confirmed that there was no implant in the left corpora. The erosion site was sutured. Postoperatively patient voided well after catheter removal.
There are several causes of acute urinary retention, the most common are Prostatic hypertrophy and urethral stricture in the male. PP is the last option in erectile dysfunction patients after failure of oral medications. The use of PP is being increasingly seen in developing countries like India. In India, however, an inflatable prosthesis is seldom used due to high cost. Surgeons resort to inserting malleable prosthesis, which has the disadvantages of being fixed and semi-rigid.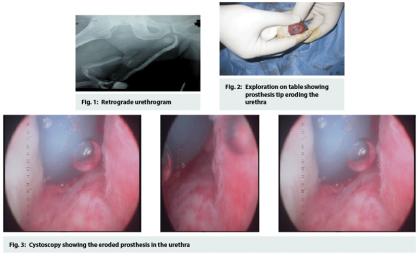 In the present case, the erosion was missed out initially. The authors have discussed the 1st case of spontaneous erosion of malleable single sided prosthesis occurring 7 years postoperatively which led to acute retention.
"We postulate that spontaneous erosion occurred due to the disproportionate sizes of corpora and lack of support in opposite corpora due to use of a single-sided prosthesis. The erosion may be due to the fixed, semi-rigid prosthesis on one side causing trauma to the urethral mucosa. Usage of single-sided malleable PP cures erectile dysfunction but should not be entertained as there is more likely chance of erosion into the urethra," write the authors.
The authors suggest that in patients who have had PP inserted, Physicians and Urologists should consider the possibility of erosion as the primary cause of urinary retention. Such patients need immediate exploration.
For full information log on to http://www.japi.org/december_2018/25_corr_a_rare_cause_of_acute.html
Source : With inputs from JAPI