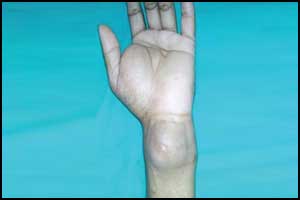 Isolated tuberculosis (TB) of the synovial sheath or bursa occurs rarely; the disease is thought to reach the synovial sheath by the direct hematogenous spread or from underlying bone or joint. The present case has been reported by
Dr.Tribhuwan Narayan Singh Gaur from Department of Orthopaedics, People's College of Medical Sciences and Research Centre, Bhopal and published in the Journal of Orthopaedics and Allied Sciences.

In the present case, a 50-year-old female presented with swelling over the left hand and wrist for 2 years. The swelling started in her left wrist; it was painless initially, but from the last 6 months she expressed tingling, and numbness in left thenar area and the swelling also appeared over hand region. The pain and tingling increase during the night. There was no history of loss of appetite or weight loss or evening rise in temperature but a family history of TB was present, there was no history of any other joint involvement. 

On examination, the cross fluctuation was present in the entire area of median nerve innervation was numb. X-ray of the hand and wrist was normal did not show any bony involvement. A chest was normal clinically and radiologically, no other lesion of TB was clinically detectable. USG of left wrist and hand suggested synovial thickening and proliferation of flexor digitorum tendon at wrist and hand with the presence of multiple oval shaped hypoechoic bodies.

Courtesy Journal of Orthopaedics and Applied Sciences 
Excision biopsy was planned and carried out through a volar approach to wrist and hand. Skin and fascia were incised and retracted, flexor retinaculum dissected and median nerve carefully retracted, there was a single continuous fluctuant mass which was filled with fibrinous material and straw-colored fluid. The fluid and melon seed bodies evacuated, inflamed tendon sheath excised. 

These findings were suggestive of tubercular nature of pathology. A through wound wash was given and closed in layers. The histopathology report revealed inflammatory lesion with large granuloma of epithelioid cells and multiple giant cells and central caseous material, suggesting tubercular nature of pathology. 

The patient was treated with anti-tubercular drugs according to the WHO and set the international standard for TB care. Initially, isoniazid (INH), rifampin (RIF), pyrazinamide, ethambutol for 2 months during intensive phase followed by 4 months continuous phase of INH and RIF thrice a week.
The carry home message from the present case is that with the worldwide resurgence of musculoskeletal TB, there is an increased in cases affecting atypical sites, including hand so whenever we are treating the tenosynovitis the diagnosis of TB should always be kept in mind so that early diagnosis and timely intervention can be done for complete recovery of the patient.
For more details click on the link: DOI: 10.4103/joas.joas_16_16