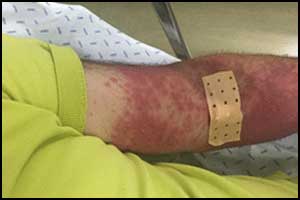 Dr. Filipe Santos Mira and Colleagues have reported a case of Thiazide induced photosensitive rash which has appeared in BMJ Case reports. The prevalence of thiazide-related photosensitivity is estimated between 1 and 100 per 100 000 patients, with hydrochlorothiazide being the most common agent. There are only a few cases described in the literature.
According to the history of the case, a 50-year-old man with a history of hypertension and dyslipidemia, both controlled with oral medications, was admitted to the emergency department due to a sudden onset of pruritus 2 days before, which would not improve with the application of topic antihistamines prescribed by his family doctor. 

A maculopapular, symmetric rash with plaques located on sun-exposed areas (hands, forearms, face and upper torso, sparing the abdomen, lower limbs, and arm flexures) had appeared a few hours before coming to the emergency department. The patient denied any sort of respiratory distress, as well as prolonged exposure to sunlight, history of drug allergies or having seen anyone in his family with the same problem before.

Image Courtesy BMJ Case Reports
The only recent change had been to his hypertension medication in the last 13 days when hydrochlorothiazide was combined with his usual medication (losartan), which he had been taking for the past 5 years. 

Since photosensitivity due to thiazides was a possibility, he was given a single-dose intravenous steroid (40 mg of methylprednisolone), which improved his symptoms and so he was advised to stop hydrochlorothiazide until the next consultation. Five days later he came for the consultation and did not present any of the mentioned skin lesions, thus confirming the diagnosis.
Carry Home Point-
A photosensitive skin rash can be present in a multitude of diseases, ranging from autoimmune (namely subacute cutaneous lupus erythematosus) to allergic and even drug-associated diseases; therefore, a thorough clinical examination and questioning must be prioritized.
Thiazides can elicit a photoallergic or a phototoxic response; in this case, a photoallergic dermatitis is present with a delayed onset and mild symptomatology, even though it is not usually associated with systemically administered substances.
For more details click on the link: doi:10.1136/bcr-2018-225082