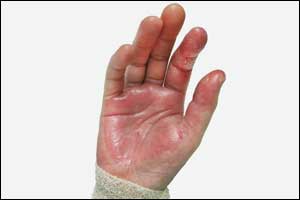 Dr Bob C.Y. Chan, at Christchurch Hospital, Christchurch, New Zealand and associates reported a case of Staphylococcal toxic shock syndrome after cesarean section.
Staphylococcus aureus causes a wide range of infections, from folliculitis and skin abscesses to bacteremia and endocarditis. S. aureus colonizes the skin and mucous membranes of 30 to 50 percent of healthy adults and children. Many strains produce exotoxins that lead to three associated syndromes:
Food poisoning, caused by ingestion of S. aureus enterotoxin
Scalded skin syndrome, caused by an exfoliative toxin
Toxic shock syndrome (TSS), caused by toxic shock syndrome toxin-1 (TSST-1) and other enterotoxins
Toxic shock syndrome was initially described in 1978; the disease came to public attention in 1980 with the occurrence of a series of menstrual-associated cases.
According to history, a  33-year-old woman presented with a 4-day history of fever and abdominal pain, exactly 7 days after undergoing a cesarean section. She had diffuse erythroderma, and the blood pressure was 85/48 mm Hg. 

A workup revealed elevated creatinine and liver-enzyme levels, and specimens of urine and specimens from the vagina were cultured and grew Staphylococcus aureus. Her condition worsened over the next day, with acute respiratory distress; subsequently, desquamation of her hands occurred.

A diagnosis of staphylococcal toxic shock syndrome was made. Desquamation is characteristic of staphylococcal toxic shock syndrome, typically occurring 1 to 2 weeks after the onset of illness and typically involving the palms and soles. 

Carry Home Ponts-
Staphylococcal toxic shock syndrome is associated with a wide variety of clinical settings, such as menstruation, postpartum and postsurgical states, barrier contraceptive use, staphylococcal pneumonia, sinusitis, and superinfected skin lesions.
With supportive care and the administration of floxacillin, the patient recovered completely. The skin changes resolved within 4 weeks after the onset of illness.
For more details click on the link: DOI: 10.1056/NEJMicm1213758