Case of Purple Urine after catheterization- a dilemma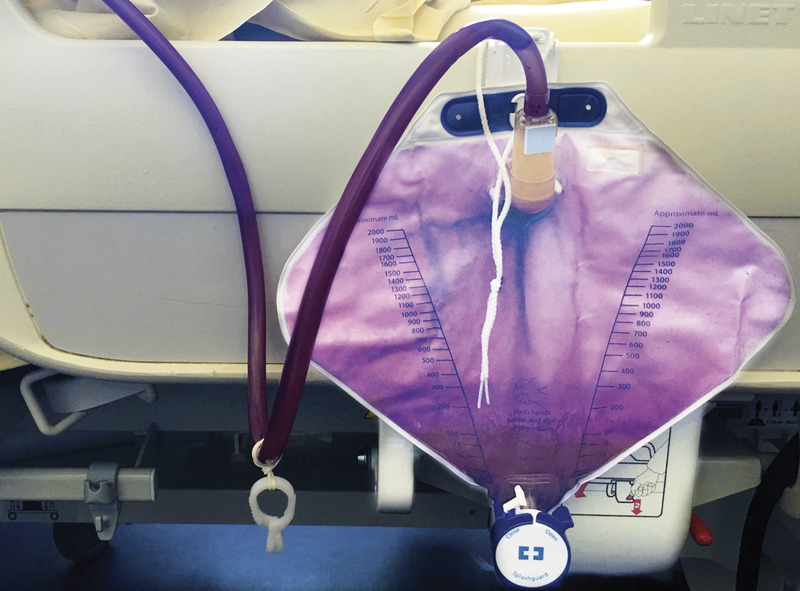 Dr Léo Plaçais, and Dr Christian Denier, at Hôpital de Bicêtre, Le Kremlin Bicêtre, France have reported a rare case of Purple Urine after catheterization. The case has appeared in the New England Journal of Medicine.
Purple urine bag syndrome (PUBS) is rare and is signified by purple discolouration of the urine usually seen in women and chronically debilitated patients with long term indwelling urinary catheters. The condition is often associated with urinary tract infection and can be distressing for patients, family members and healthcare workers who are unaware of this association. Discolouration of the urine bag is due to the presence of indigo and indirubin pigments which precipitate and react with the synthetic materials of the catheter and urinary bag.
According to history a 70-year-old woman had a urinary catheter placed during a hospitalization for aphasia and hemiplegia after an acute stroke. Ten days after catheterization, her urine appeared purple. Urinalysis showed leukocytes but no nitrites, and the pH was 8. A urine culture grew Klebsiella pneumoniae. The purple discoloration is thought to occur as a result of a chemical reaction facilitated by certain bacteria in alkaline environments. Dietary tryptophan is converted to indole within the gut, absorbed into the circulation, and metabolized by the liver to form indoxyl sulfate. When excreted in the urine, indoxyl sulfate can be broken down by bacterial enzymes to form indigo and indirubin, which are blue and red, respectively, creating the color purple when combined. This reaction is known to occur in the presence of several other bacteria, including Pseudomonas aeruginosa, Providencia stuartii, Escherichia coli, and enterococcus species. Since the patient had no clinical signs consistent with infection, no antibiotics were administered, but she did receive intravenous hydration. The purple discoloration resolved over 4 days, and the urinary pH returned to a normal level, but the patient remained hemiplegic and aphasic and was admitted to a long-term care facility.
For further reference log on to :
DOI: 10.1056/NEJMicm1905446