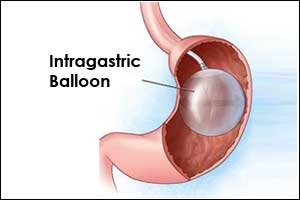 Intragastric balloon treatment was introduced in the 1980s for patients with obesity (body mass index between 30 and 40 kg/m²) who failed to lose weight with diet and exercise. A fluid-filled balloon is inserted and removed after 6 months via endoscopy. In the majority of cases, this is a safe and efficient therapy. But in rare circumstances complication of Gastric outlet obstruction may be encountered. Such a case has been reported by Dr.Nicoline Kool and Dr.Simon Andreas Müggler and it appears in BMJ Case Reports.
A 43-year-old female patient presented to the emergency department with sudden onset of recurrent vomiting and epigastric pain for 5 days. The patient was not able to keep any food or fluid down. Two months ago, an intragastric balloon was inserted endoscopically as a treatment for obesity with an initially uneventful course. On physical examination, there was a palpable resistance in the right mid-abdomen with no pain on palpation. Blood testing did not reveal any signs of infection.
A CT scan showed a massive dilatation of the stomach with a maximum diameter of 34 cm, caused by a trapped intragastric balloon in the gastric antrum with consecutive gastric outlet obstruction (figure 1, arrow). After the insertion of a gastric tube, 2 L of fluid was drained and the vomiting resolved. On the following day, the intragastric balloon was removed via endoscopy, and the patient, who did not report any residual symptoms, was discharged on the same day.
For more details click on the link: http://casereports.bmj.com/content/2018/bcr-2018-224394.full