Case of fatal rabies despite post-exposure prophylaxis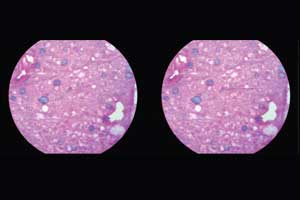 A case of Case of fatal rabies despite post-exposure prophylaxis has been reported by Dr DG Deshmukh at Department of Microbiology, Government Medical College, Aurangabad, Maharashtra, India and colleagues. The case has appeared in the Indian Journal of Medical Microbiology.
Rabies is a major public health problem in developing countries like India. Only sporadic reports of failure of post-exposure prophylaxis for rabies exist in the published literature.

A 3-year-old child had the dog bite on right thigh on 6th January 2009. There was a single bite mark in the form of the lacerated wound of size 2cm × 2.5cm (category III). The dog was a stray dog of the same locality and had symptoms of rabies. It was killed by people on the next day.

The child received four doses of purified chick embryo cell-derived antirabies vaccine on 7th, 12th, 17th and 20th January 2009. The next dose of vaccine was due on 5th February 2009. He did not receive antirabies serum. The child remained asymptomatic till 24th January 2009. On 25th January 2009, he developed fever, pain, and weakness over the right lower limb. On the same day, he was referred to a tertiary care hospital.

On admission, the patient was febrile and drowsy and vital signs were stable. There was no sign of neck rigidity, no cerebral signs and the ophthalmic examination was within normal limits.

The cerebrospinal fluid (CSF) examination of patent revealed slightly increased protein, 110 mg% (normal range, 15-45 mg%). CSF sugar was 80 mg%, which was within the normal range.

The weakness initially involving the right lower limb progressed to involve the left lower limb, followed by the upper limbs over the next 2 days. Finally, he developed quadriplegia. However, the classical symptoms of rabies, i.e. hydrophobia and aerophobia, were not present any time during his illness.

On 27th January 2009, the patient developed respiratory paralysis. The patient was intubated and cardiopulmonary resuscitation was given. However, the patient died at 2 am on 28th January 2009. The provisional diagnosis of rabies encephalitis was made even though classical symptoms of rabies, such as aerophobia and hydrophobia, were not present. The possibility of vaccine-induced acute disseminated encephalomyelitis, although rare with the modern cell culture vaccine, was also considered. To confirm the diagnosis, an autopsy was performed giving more attention to the brain.

On gross examination, the brain was mildly congested. Eight impression smears from the hippocampus of the brain were taken and four were stained with Sellers stain. Intracytoplasmic inclusion bodies indicative of Negri bodies were detected by microscopic examination.

Half of the brain was collected in 50% glycerol-saline for further confirmation. Direct immunofluorescence test was performed on the remaining impression smears. Reverse transcriptase polymerase chain reaction was performed on the collected brain tissue, which confirmed the diagnosis of rabies.
For more details click on the link:
DOI: 10.4103/0255-0857.81786
Source : With inputs from Journal of Medical Microbiology