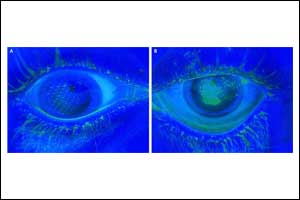 Dr Ryan James Fante, at University of Michigan Kellogg Eye Center, Ann Arbor, MI and colleagues have reported a case of bilateral corneal abrasion due to airbag inducedd injury. The case has appeared in NEJM.
ALTHOUGH AIR BAGS have reduced the incidence of fatal and severe injuries in automobile collisions, they have been shown to increase the risk of less severe injuries. These associated minor injuries include upper extremity fractures, skin abrasions, and eye injuries.
According to history, a  17-year-old girl presented to the eye emergency department with complaints of blurred vision and the sensation of a foreign body in both eyes immediately after a motor vehicle accident in which airbags were deployed. 

The patient, a passenger, was wearing a seatbelt when the vehicle she was in rear-ended a rapidly decelerating car on a freeway. She sustained no other injuries, and no other occupants of the vehicle were injured. Her visual acuity was 20/20 in the right eye and 20/25 in the left eye.

Courtesy NEJM

Fluorescein staining of the cornea viewed under illumination through a cobalt blue filter revealed an imprint of the nylon mesh pattern of the airbag cover on the corneal surface of the right eye and a corneal abrasion in the left eye. There was also a small hyphema in the left anterior chamber. 

The patient was treated with erythromycin ointment, and the corneal abrasions completely resolved within 24 hours. After 2 weeks, the hyphema had resolved, and the patient had 20/20 visual acuity in each eye. Corneal abrasion and hyphema can be concussive eye injuries resulting from airbag deployment.
The recent studies on the type of eye injury have shown that there was a statistically significant increase in the risk of corneal abrasions for occupants who were exposed to an airbag deployment. Although a few studies show that there may be no increased risk of injury associated with eyes that have undergone photorefractive keratectomy, automated lamellar keratoplasty, and laser-assisted in-situ keratomileuses, they are in the minority.
For more details click on the link: DOI: 10.1056/NEJMicm1313137