Cardiology Update: Partner 2A trial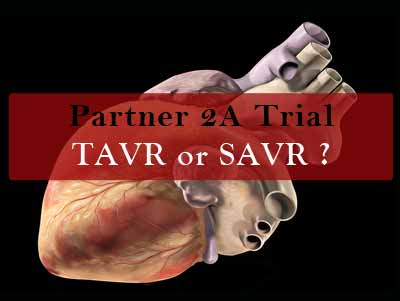 PARTNER 2A Trial-Is TAVR better than SAVR in intermediate risk patients?
Transcatheter Aortic Valve Replacement (TAVR) has been found to be superior to the standard surgical treatment in patients with severe aortic stenosis. In Partner trial inoperable patients and the patients with unacceptable surgical risks were tried and were found that in these two cohorts of patients TAVR was found to be better than SAVR. In further trial partner 2 A were tried in better conditions with better operator experiences and even the second generation SAPIEN XT TAVR and in this trial patient with intermediate risk for surgical were taken.
In the PARTNER 2A randomized trial, the PARTNER investigators compared the safety and effectiveness of the second generation SAPIEN XT TAVR system with conventional surgery in intermediate-risk patients.
A total of 2032 intermediate-risk patients (mean age, 81.6 years; 54% male) with symptomatic severe AS were randomly assigned at 57 clinical centers (55 in the U.S. and 2 in Canada) to undergo either TAVR or surgical aortic valve replacement (SAVR). Surgical risk was determine by a multi-disciplinary Heart Team using a guideline of STS score ≥4%, and was adjudicated by case review committee (mean STS score was 5.8%). Of those who underwent TAVR, 775 had transfemoral access and 236 had transapical or transaortic access (combined as transthoracic access).
For the primary endpoint of death from any cause or disabling stroke (modified Rankin score of 2 or greater at 90 days) at 2 years, no difference was noted between groups (p=0.001 for noninferiority). The 2-year Kaplan-Meier event rates were 19.3% for TAVR and 21.1% for SAVR (hazard ratio [HR], 0.89; p (log rank) =0.25).
With transfemoral access, TAVR results in a lower death/disabling stroke rate than SAVR (HR, 0.79; p=0.05), whereas in the transthoracic-access cohort, the outcomes were similar.
Mean anesthesia time was significantly lower with TAVR, as was procedure time and median ICU stay and total hospital stay. Compared to SAVR, TAVR was associated with a larger aortic-valve area, lower rates of acute kidney injury, life-threatening or disabling bleeding, and new-onset atrial fibrillation. SAVR, however, was associated with fewer major vascular complications and less paravalvular aortic regurgitation.
The researches concluded that even in intermediate risk patients with symptomatic severe AS the TAVR with SAPIEN XT system is safe and is better for the primary endpoint of death and disabling stroke at 2 years. In those who had transfemoral access TAVR (76% of patients), TAVR significantly reduced all-cause death and disabling stroke compared to SAVR.

"The researches also commented that the results from PARTNER 2A support the use of TAVR as an alternative to surgery in intermediate risk patients, similar to those in this trial," . "In patients who care candidates for transfemoral access, TAVR may result in additional clinical advantages." Long-term durability assessments of these bioprosthetic valves are still lacking, and "extrapolation of these findings to low-risk patients requires further clinical trial validation,"
References
Source : with inputs