Cardiology Update: No difference in bare metal and drug eluting stent, says NORSTENT TRAIL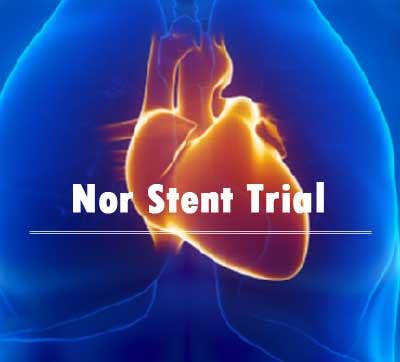 Since the late 1990s , the stent implantation has become a default strategy because of their predictable acute and late angiography result compare to angioplasty.
Drug eluting stents though increase the luminal diameter but restenosis still occurred within 6-12 months and the drug eluting stent were introduced as panacea for this achilles' heel of coronary stenting.
Since then a number of studies have progressively proposed the uses of drug eluting stent and today they are used as a default treatment in percutaneous coronary intervention.
NORSTENT trial compared the evidence of the drug eluting stents comparing with the contemporary bare-metal stent and evaluated the long term risk and benefits of DES and BMS.
A total of 9,013 patients (mean age, 62.6 years; 75% male) with stable or unstable coronary artery disease were randomly assigned to undergo percutaneous coronary intervention (PCI) with the implantation of either contemporary DES (96% received either everolimus- or zotarolimus-eluting stents) or contemporary BMS with thin struts.
At 6 years, the rates of the primary outcome (a composite of death from any cause and nonfatal spontaneous myocardial infarction) were 16.6% for the DES group and 17.1% for the BMS group . There were no significant between-group differences for either of the components of the primary outcome, nor were there differences in the occurrence of stroke, hospitalization for unstable angina pectoris, or moderate or severe bleeding. Quality-of-life measures also did not differ significantly between the two groups.
Repeat revascularization was more common after BMS implantation , as was definite stent thrombosis, although this difference was only nominally significant .
The investigators concluded that there were no significant differences between contemporary DES and contemporary BMS for a composite outcome of death from any cause and nonfatal spontaneous myocardial infarction. Repeat revascularization is still more common after BMS implantation and rates of definite stent thrombosis are were low in both groups and appeared to be lower in the group receiving DES. Limitations of the trial include its open-label design, although outcomes were evaluated by a blinded committee.
Reference


Bonaa KH, Mannsverk J, Wiseth R, et al.:Drug-eluting and bare-metal stents for coronary artery disease. N Engl J Med. 2016; 375: 1242-52.