Cardiology Update: Hope 3 trial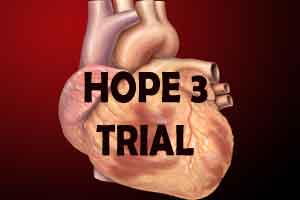 HOPE 3 Trial finds Cholesterol and blood pressure lowering in intermediate-risk persons without CVD lowers CV risk
It is almost an established fact that increased serum low-density lipoprotein cholesterol (LDL-C) and elevated blood pressure both increase the risk of cardiovascular disease (CVD). When elevated, the lowering of either has been shown to reduce this risk, but the benefit of lowering both in an intermediate-risk population without established CVD (or high LDL-C or systolic blood pressure) has not been demonstrated.
The HOPE-3 trial (Heart Outcomes Prevention Evaluation-3) was designed to test the effects of a moderate dose of a potent statin (without lipid monitoring) versus placebo, a fixed combination of moderate doses of an angiotensin-receptor blocker (ARB) plus a diuretic (without blood pressure targets) versus placebo,in intermediate risk patients
HOPE-3
was a multicenter, double-blind, randomized, placebo-controlled trial with a 2 x 2 factorial design. Cholesterol lowering was accomplished using
rosuvastatin
, blood-pressure lowering with combination
candesartan and hydrochlorothiazide.
Intermediate risk was defined as an annual risk of major cardiovascular events of approximately 1%. The trial enrolled men 55 years of age or older and women 65 year or older without cardiovascular disease and with at least one additional risk factor besides age (e.g. smoking, elevated waist-to-hip ratio, etc.).Yet, there were no mandated specific lipid or blood pressure levels for entry.
The first coprimary outcome was the composite of death from cardiovascular causes, nonfatal myocardial infarction, or nonfatal stroke. The second coprimary outcome additionally included revascularization, heart failure, and resuscitated cardiac arrest. Median follow-up was 5.6 years. A total of 12,705 patients from 21 countries on 6 continents were enrolled.
Compared to placebo, treatment with rosuvastatin 10 mg was associated with a significantly reduction in the first coprimary outcome (as well as the second coprimary outcome Results were consistent across subgroups, including those with higher and lower baseline lipid levels. There was no excess of new onset diabetes or cancer in statin-treated participants, but there were more reports of muscle symptoms
Blood-pressure lowering with candesartan 16 mg and hydrochlorothiazide 12.5 mg
: Blood-pressure lowering did not reduce the incidence of the first coprimary outcome ), nor the second coprimary outcome
Combined cholesterol and blood­pressure lowering
: Compared to dual placebo, combined therapy reduced the first coprimary outcome), and the second coprimary outcome Muscle complaints and dizziness were reported more often in the active treatment arm but did not result in a greater rate of study­drug discontinuation. There were also no significant differences between groups in the rate of renal dysfunction, syncope, liver­function abnormalities, or eye problems. There was only one case of rhabdomyolysis reported (in the rosuvastatin group), which was detected clinically, indicating "little need for routine blood testing with a combined ­treatment strategy," wrote the study authors.
The investigators concluded that in patients who are at intermediate risk of CVD the treatment with fixed doses or rosuvastatin and two antihypertensives was associated with significantly lower risk of cardiovascular events compared to placebo.
.
References


EM Lonn, S Yusuf, Presenters: HOPE­3: Cholesterol and blood pressure lowering in intermediate­risk persons without CVD. ACC 2016 . Apr 2, 2016.




S Yusuf, J Bosch, G Dagenais, et al (E Lonn, senior author): Cholesterol lowering in intermediate­risk persons without cardiovascular disease. N Engl J Med. 2 Apr 2016.




EM Lonn, J Bosch, P Lopez­Jaramillo, et al. (S Yusuf, senior author): Blood­pressure lowering in intermediate­risk persons without cardiovascular disease. N Engl J Med. 2 Apr 2016. Published online ahead of print.




S Yusuf S, E Lonn E, P Pais, et al. (Dagenais G, senior author):Blood pressure and cholesterol lowering in persons without cardiovascular disease. N Engl J Med. 2 Apr 2016. Published online ahead of print.




WC Cushman, DC Goff: More HOPE for prevention with statins. N Engl J Med. 2 Apr 2016. Published online ahead of print.


Source : with inputs