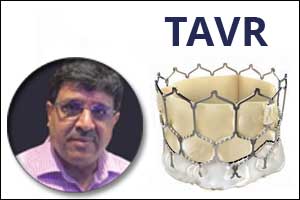 New Delhi: Making strides in the government's Make in India Vision, doctors at GB Pant hospital have successfully implanted the first Indian made artificial aortic valve percutaneously. The procedure was carried by the team under Dr Prof.V.K Trehan, leading international cardiologist and Director Professor, Department of Cardiology, GB Pant hospital..
The implantation came as a part of a clinical trial being conducted at the hospital on the valve. If successful, this is going to create a new hope in poor patients with the damaged aortic valve who are currently devoid of the option given the high cost of imported valved in the market.
The successful implantation of the valve was done by team of cardiologists under Dr.V.K Trehan including Dr Safal, Dr Sanjeev Kathuria on a 74 year male with severe aortic stenosis at a high risk of surgery who presented with breathlessness angina and an episode of syncope. With the implantation of the valve, the patient is now showing positive signs of recovery symptomatically and otherwise.
Dr.V.K Trehan informed that with such implantations, the department at GB Pant Hospital aims to provide the treatment of Aortic stenosis through TAVR bringing it with an affordable reach for high-risk patients at government setup.
Transaortic valve replacement treatment for aortic stenosis is the minimally invasive surgical procedure that repairs the damaged aortic valve. It wedges a replacement valve in aortic valve place and this surgery is called transcatheter aortic valve replacement(TAVR). It was initially introduced as an option for high-risk patients with aortic stenosis who cannot be operated by open heart surgery. The procedure is now more and more available for intermediate risk patients. However, while the procedure has benefits primarily in terms of being minimally invasive, it is extremely costly with the cost of a valve and the procedure going into lakhs.
Aiming to provide a cheaper alternative, Myval is a balloon expandable aortic valve, is being introduced by Meril Lifesciences Pvt.Ltd. The same is under study at G.B Pant Hospital by Dr.Vijay Trehan in a clinical trial involving 100 patients.
The Myval valve is made of Hybrid Honeycomb cell Design Concept and the salient features of the design include:
Open cells on upper half to ensure un-jailing of coronary ostia
Closed cells on lower half for high radial strength
Internal PET stealing cuff for the lower profile and puncture resistance
Nickel Cobalt alloy frame for high radial strength and RO
The bovine pericardial tri-leaflet valve
Extremely PET buffing to minimize para-valvular leaks
The valve is going to create a cheap replacement for the imported valve so that the particular surgery can be made available to the poorer section of the Indian population at an affordable price.