High sensitivity cardiac troponin may not rule out myocardial ischemia: Study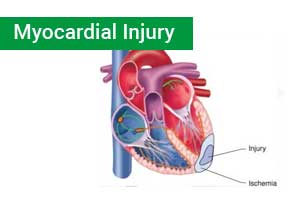 A troponin test measures the levels of troponin T or troponin I proteins in the blood which are released when the heart muscle has been damaged, such as occurs with a heart attack. Therefore Cardiac troponin is the preferred biomarker for the diagnosis of acute myocardial infarction (AMI). The recent development of a high-sensitive cardiac troponin T (hs-cTnT) assay permits detection of very low levels of cTnT.
High-sensitivity (hs) cardiac troponin (cTn) assays expedite the evaluation of patients with possible acute coronary syndromes (ACS) in the emergency department. Rapid screening protocols with hscTn have been proposed for patients for whom ruling-in or ruling-out acute myocardial infarction (AMI) is the primary issue.HscTn assays will help triage patients with ACS more accurately and rapidly than prior assays.
Researchers from University Hospital Basel, Switzerland have found out that in symptomatic patients with coronary artery disease (CAD), even very low high-sensitivity cardiac troponin (hs-cTn) concentrations, do not generally allow clinicians to safely rule out inducible myocardial ischemia. Findings from a cohort study are published in the Annals of Internal Medicine.
Currently, clinical judgement and cardiac stress imaging are used for risk stratification in symptomatic patients with CAD and suspected inducible myocardial ischemia. The optimal noninvasive method for surveillance is unknown, but hs-cTn, a quantitative marker of cardiomyocyte injury, has recently been evaluated as a clinical tool in settings other than the diagnosis of acute myocardial infarction.
The researchers studied 1,896 consecutive symptomatic patients with CAD to apply a novel approach using very low hs-cTnl concentrations less than 2.5 ng/L to determine if it could exclude inducible myocardial ischemia. Including the most sensitive hs-cTnI assay currently available (limit of detection 0.1 ng/l, they used three different assays to measure hs-cTnI and hs-cTnT in blood samples that had been taken before stress testing and processed by personnel blinded to clinical data.
The researchers found that the diagnostic accuracy of hs-cTnI and hs-cTnT to identify inducible myocardial ischemia was low, and no cutoff level achieved the predefined performance characteristics for the safe exclusion of inducible myocardial ischemia.
For further reference log on to:
http://annals.org/aim/article/doi/10.7326/M19-3731
Source : Annals of Internal Medicine