Carbapenem found beneficial in treating Valproic Acid Toxicity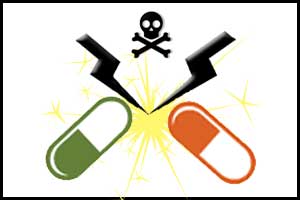 Short-term administration of carbapenem antibiotics may be beneficial in the treatment of valproic acid (VPA) overdose in patients with no history of seizure disorder, according to a recent case report published in the The Journal of Clinical Pharmacy and Therapeutics. A 56% decline was observed in half‐life with short‐term meropenem dosing and an improvement in mental status shortly after administration.
Previous reports have suggested that the interaction between the valproic acid (VPA) and carbapenem antibiotics causes a reduction in VPA half‐life between 47% and 90%.
The case describes a 45-year-old male patient who was found unresponsive after ingesting 10 grams of extended-release divalproex sodium. His past medical history was significant for bipolar disorder. Laboratory analysis showed elevated serum VPA concentrations (396.2mg/mL initially; 415mg/mL after 5.5 hours) as well as a normal serum ammonia level (24mmol/L). The patient was prescribed activated charcoal, 1 dose of intravenous levocarnitine, cefepime, and metronidazole.
A significant decrease in the patient's serum VPA concentration was observed following the first dose of meropenem as well as over the next 14 hours (to 36.5mg/mL). Additionally, the patient was reported to become more alert despite increased serum ammonia levels. After 5 days of hospitalization, the patient received a total of 8 doses of meropenem (500mg every 6 hours administered intravenously) prior to being discharged to inpatient psychiatry.
The findings of the case report suggest a potential role for short‐term carbapenem therapy for VPA overdose.
The authors said that "The decrease in the elimination half-life induced by this major drug-drug interaction may hasten improvement in neurological recovery, minimize toxicity from VPA overdose and shorten the length of hospital stay." "However, this requires confirmation of safety and efficacy in a well-designed study prior to widespread implementation," they added.
Meropenem is a broad-spectrum antibiotic used to treat a variety of bacterial infections. Valproic acid is an anticonvulsant used to treat certain types of seizures (epilepsy).
For more reference log on to https://doi.org/10.1111/jcpt.12705