Canagliflozin not only lowers blood sugar but also reduces kidney failure risk in Diabetes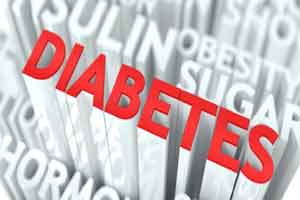 In Phase 3 CREDENCE study, researchers found that in patients of Diabetes, along with controlling blood sugar Canagliflozin reduced the risk of kidney complications like progression to end-stage kidney disease need for Dialysis and renal transplant
Diabetes is a metabolic disorder that impairs the body's ability to process blood sugar as a result level of sugar rise in blood. Hormone insulin normally produced in the body that helps control blood sugar is either not produced in diabetics in enough quantity or body might not respond to insulin properly. The fasting blood sugar levels are classified as under-


Normal if blood sugar is less than 100


Prediabetes if blood sugar is 100-125


Diabetes if blood sugar is 126 or higher


The aim of every drug of medicine is to control blood sugar level and to prevent or delay the onset of impending complications like cardiovascular disease, blindness, kidney failure, and stroke. Canagliflozin has been found to significantly lower the risk of kidney failure in high-risk patients of Type 2 Diabetes.
Canagliflozin not only lowers blood sugar but also reduces renal failure risk in patients of Diabetes and Chronic Kidney Disease in the Landmark Phase 3 CREDENCE Study. The results of the clinical trial were presented at clinical trials session at the International Society of Nephrology (ISN) 2019 World Congress of Nephrology (WCN) in Melbourne, Australia, and also published in The New England Journal of Medicine.
The results from the Phase 3 CREDENCE study have demonstrated that in patients of diabetes canagliflozin lead to a 30 per cent reduction in the risk of progression to end-stage kidney disease (ESKD) need for Dialysis and renal transplant. The study evaluated the efficacy and safety of canagliflozin compared to placebo in patients with chronic kidney disease (CKD) and type 2 diabetes (T2D), in addition to standard of care.
"Diabetes is the leading cause of kidney failure for millions of people worldwide, and this clear need for a new treatment option was the motivation for initiating the CREDENCE study. Today, we are pleased to share study results that potentially could establish INVOKANA® as the only medicine to safely reduce the risk of renal failure in this high-risk patient population when added to current standard of care," said James List, M.D., Ph.D., Global Therapeutic Area Head, Cardiovascular & Metabolism, Janssen Research & Development, LLC. "We are working closely with the U.S. FDA and health authorities worldwide to bring this important medicine to those living with these life-threatening conditions."
Canagliflozin is a prescription medicine used:


along with diet and exercise to lower blood sugar (glucose) in adults with type 2 diabetes


to reduce the risk of major cardiovascular events such as heart attack, stroke, or death in adults with type 2 diabetes who have known the cardiovascular disease. Canagliflozin is not for people with type 1 diabetes or with diabetic ketoacidosis (increased ketones in blood or urine). The safety and effectivity of the drug are not known in children under 18 years of age.


The landmark study evaluated the efficacy and safety of Canagliflozin versus placebo in patients with chronic kidney disease (CKD) and type 2 diabetes (T2D) when used in addition to standard of care. Study results also showed Canagliflozin reduced the risk of the secondary CV endpoints, including the risk of CV death and hospitalization for heart failure by 31 percent, major adverse CV events (MACE; composite of nonfatal myocardial infarction [MI], nonfatal stroke and CV death) by 20 percent, and the risk of hospitalization for heart failure alone by 39 percent. Importantly, the study showed no imbalance in amputation or bone fracture. Additionally, no new safety concerns were identified in this study of high-risk patients.
The Phase 3 CREDENCE (Canagliflozin and Renal Events in Diabetes with Established Nephropathy Clinical Evaluation, NCT02065791) clinical trial was a randomized, double-blind, event-driven, placebo-controlled, parallel-group, 2-arm, multicenter study. It evaluated 4,401 patients with T2D, Stage 2 or 3 CKD (defined as an estimated glomerular filtration rate (eGFR) of ≥30 to <90 mL/min/1.73 m2), and macroalbuminuria (defined as urinary albumin-to-creatinine ratio (ACR) >300 to ≤5,000 mg/g), who were receiving standard of care including a maximum tolerated labelled daily dose of angiotensin-converting enzyme (ACE) inhibitors or angiotensin II receptor blockers (ARBs).
Canagliflozin was first approved by the FDA in 2013 as an addition to diet and exercise to support glycemic control in adults with T2D. In 2018, canagliflozin was additionally approved for patients with T2D who have established cardiovascular disease in order to reduce the risk of major adverse cardiovascular events, such as heart attack, stroke, or death.
Author Dr.Kartikeya Kohli DNB (Medicine), MRCP, Fellow DNB(Nephrology) is a Consultant Physician and Nephrologist at Sanjeevan Hospital, New Delhi