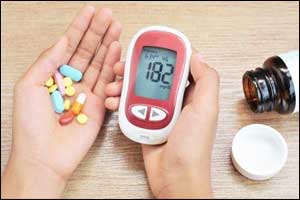 Dr.Elisabetta Patorno and associates conducted a Population-based retrospective cohort study to evaluate the cardiovascular safety of canagliflozin, a sodium-glucose cotransporter 2 inhibitor for the treatment of type 2 diabetes mellitus, as compared to DPP-4 inhibitors (DPP-4i), GLP-1 receptor agonists (GLP-1RA), or sulfonylureas, as used in routine practice.The researchers have found that sodium-glucose cotransporter-2 drug canagliflozin was associated with lower risk for heart failure in type 2 diabetic patients.The study has been published in BMJ.
Researchers assembled three pairwise 1:1 propensity score–matched cohorts of adult patients who initiated canagliflozin or a non–SGLT2 inhibitor antidiabetes drug (dipeptidyl peptidase-4 [DPP-4] inhibitor, glucagon-like peptide-1 [GLP-1]–receptor agonist, or sulfonylurea) from 2013 through 2015. During 30 months of follow-up, risk for admission for heart failure was significantly lower with canagliflozin than with DPP-4 inhibitors (hazard ratio, 0.7), GLP-1–receptor agonists (HR, 0.6), or sulfonylureas (HR, 0.5). However, no significant differences were found in risk for the composite CV endpoint (i.e., hospital admission for acute myocardial infarction, ischemic stroke, or hemorrhagic stroke) between canagliflozin and other antidiabetes drugs. Similar results were obtained in sensitivity analyses adjusted for baseline glycosylated hemoglobin level and in subgroups of patients with and without known CV disease or heart failure.
The researcher found that canagliflozin was associated with a lower risk of heart failure admission to hospital and with a similar risk of myocardial infarction or stroke in direct comparisons with three different classes of non-gliflozin diabetes treatment alternatives as used in routine care.The SGLT2 inhibitor canagliflozin was associated with lower risk for heart failure admission (but not a composite endpoint of adverse CV events) than were other antidiabetes drugs. Thus, this observational study didn't corroborate the relative reduction in adverse CV events that was seen in the large canagliflozin randomized trial in 2017. The effect on heart failure could be mediated by diuretic effects of SGLT2 inhibitors.
Patorno E et al. Cardiovascular outcomes associated with canagliflozin versus other non-gliflozin antidiabetic drugs: the Population-based cohort study. BMJ 2018 Feb 6; 360:k119. (http://dx.doi.org/10.1136/bmj