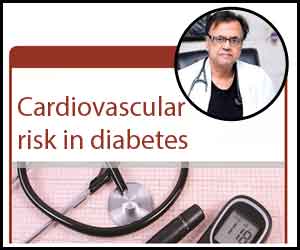 For long, diabetes has always been considered as an endocrine disease and treated by endocrinologists for lowering glucose. The adverse outcomes of diabetes have been enumerated as microvascular complications like diabetic nephropathy, neuropathy and retinopathy and macro-vascular complications like strokes Cardiovascular disease (CVD), Myocardial Infarction, peripheral artery diseases, and even cardiac death. It was long noted that the glucose control though was helping the microvascular complication but was largely unable to effectively control the macro-vascular complications.
It was more concerning is that diabetes mellitus is commonly associated with other comorbidities. In fact, in a study by NHANES from 1990-2004 survey found that only 14.4% patient DID NOT HAVE any co-morbid conditions. Hypertension, Hyperlipidemia, and Obesity are commonly associated with comorbidities. In the same study, more than 30% of the patients were suffering from more than two comorbidities. Also in this study, it was noted with concern that any associated comorbidity with diabetes causes more years to life to be lost. In fact, on the average 14 years of life is being lost by only presence of diabetes.
The study by UKPDS showed that more years were lost because of cardiovascular risks causing Myocardial Infarction including Peripheral vascular disease and even cardiac death.
The study also noted that a 1% deduction in HbA1c causes a substantial reduction in all diabetes-related risks ranging from 14% to all-cause mortality to 43% in peripheral vascular disease. Therefore, it is beyond doubt that multi-factorial risk interventions reduce cardiovascular events in type 2 diabetes and median gain of life years of 7.9 years can be achieved by adequately controlling and risk reduction.
The multi-factorial preventive interventions include exercise including regular endurance training and resistance training, control of high cholesterol by controlling the LDL less than 70% (or more than 50% reduction), Control of blood pressure to 130/80 and inhibition of platelet aggregation. The control of hyperglycemia is recommended to be dropped down to less than 65 initially and controlled on less than 7.5 avoiding low blood sugar (hypoglycemia) and increase in weight.
Drug Treatment: The treatment for diabetes essentially dates back with the innovation of insulin in 1922 where the acute complications of diabetes because of high sugar (hyperglycemia) like diabetic ketoacidosis were effectively controlled. The introduction of sulphonylurea in 1946 and biguanides in 1957 and α-Glucosidase Inhibitors in 1995 and glitazones in 1997 though effectively controlled blood sugar but did not have any impact on cardiovascular risk reduction.
In 2005, GLP1 antagonist was tried in LEADERS trial where liraglutide was found to have a positive impact on all primary outcome including cardiovascular death and death from any cause. These GLP1 inhibitors had a direct metabolic effect in increasing beta-cell functions by increasing insulin secretion, decreasing apatite and decreasing gastric emptying including directly controlled hyperglycemia (high sugar), hypertension (high BP), dyslipidemia (high cholesterol) and obesity. Furthermore, it created an indirect positive cardiovascular well being.
Liraglutide was the first drug which was found to have a positive cardiovascular outcome while treating diabetes.
In 2006, DPP4 inhibitors were introduced as gliptins and were found to be better-controlling hyperglycemia yet the cardiovascular safety was not as much that of liraglutide.
In 2013, SGLT2 inhibitors (Glifozines) were introduced as a novel insulin-independent approach to remove excess glucose. SGLT2 inhibitors inhibited the glucose reabsorption from the proximal tubule and increased urinary excretion of excess glucose (around 70 g/day, corresponding to 200 kilocals a day) and EMPA-REG outcome trial the drug was found to decrease CV death, non-fatal MI and repeat hospitalization.
In 2019, the treatment options for treating diabetes as well as decreasing the cardiovascular adverse outcomes are:
Multifactorial preventive Intervention for all with pre-diabetes and HbA1c 5.7
For HbA1c5 add metformin
For HbA1c more than 7 add 2nd anti glycemic drug.
If HbA1c is more than 9.9 add SGLT2 GLP1 inhibitor and long-acting insulins (Insulin glargin).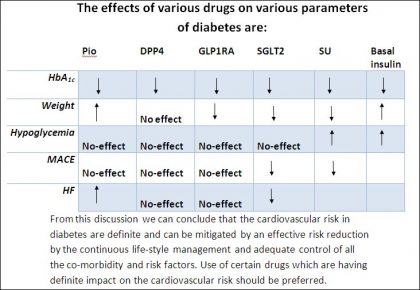 Dr. Prem Aggarwal is a renowned cardiologist and founder of Medical Dialogues.
Disclaimer:
The views expressed in the above article are solely those of the author/agency in his/her private capacity and DO NOT represent the views of
Speciality Medical Dialogues
.