Burgers may increase risk of Asthma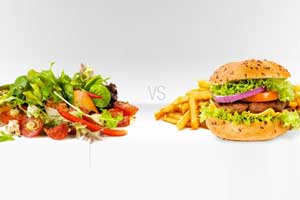 Consumption of fast food may lead to increased likelihood of having asthma, wheeze, and several other allergic diseases, according to a systematic review and meta-analysis published in the journal Respirology.
The prevalence of asthma and atopic diseases such as eczema (atopic dermatitis), allergic rhinitis (pollen fever) and rhino‐conjunctivitis has drastically increased over recent decades.
Cheng S. Wang and his associates conducted a study to determine whether the consumption of fast foods is related to asthma and other allergic diseases. The study further aimed to explore the dose–response of the consumption of fast foods to asthma/wheeze, the differential effects of specific types of fast foods consumption, such as hamburgers, carbonated soft drink and takeaway foods on asthma/wheeze and the differential effects of fast food consumption on asthma and wheeze in countries according to income level.
Data were extracted from EMBASE, MEDLINE and Cochrane Central Register of Controlled Trials (CENTRAL). The primary outcomes were defined as asthma and wheeze presented as current asthma, ever asthma, severe asthma, current wheeze and ever wheeze. The secondary outcomes included current rhinitis (rhinitis past 1 year), lifetime rhinitis (rhinitis ever), rhino‐conjunctivitis, severe rhino‐conjunctivitis, eczema, severe eczema, and atopy.
The analysis included 16 studies. In terms of different types of fast food consumption, the analysis showed that hamburger, but not take away or carbonated soft drink intake was associated with severe asthma, current wheeze, (severe) rhino‐conjunctivitis and severe eczema. Furthermore, the meta-analysis showed that the consumption of fast food, especially hamburgers, correlates with severe/current asthma in a dose-response pattern. In addition, these relationships were independent of income level.
Read Also:
Beware-Fast food may lead to delayed pregnancy & infertility
The authors suggested that a poor quality diet is likely to contribute to the development and progression of asthma and wheeze via multiple mechanisms.
The authors concluded that the systematic literature review is first of its type which assessed the relationship between the consumption of fast foods and asthma/wheeze and other allergic diseases. Further, It has demonstrated that the consumption of fast foods, in particular hamburgers, correlates to asthma in a dose-response manner.
For more reference log on to https://onlinelibrary.wiley.com/doi/full/10.1111/resp.13339
Source : With inputs from the journal l Respirology