Buprenorphine best option for treating neonatal abstinence syndrome: JAMA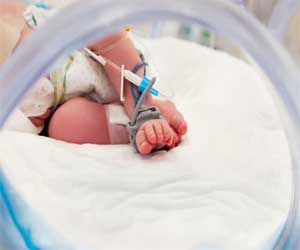 Nova Scotia, Canada: A new study suggests that Buprenorphine may be the optimal pharmacological treatment for neonatal abstinence syndrome (NAS).
The study, published in the journal JAMA Pediatrics, further finds thatMorphine, considered as a standard of care in most hospitals, was the lowest-ranked opioid for the length of treatment and length of stay.
Timothy Disher, Dalhousie University School of Nursing, Halifax, Nova Scotia, Canada, and colleagues conducted this network meta-analysis of randomized clinical trials (RCTs) to compare pharmacological therapies for neonatal abstinence syndrome.
The research team, with an aim to identify the most effective treatment for NAS searched for various databases for RCTs where a pharmacological agent was used alone or in combination with adjuvant treatments.
The treatments that were included in the length of treatment analysis were buprenorphine, clonidine, diluted tincture of opium and clonidine, diluted tincture of opium, morphine, methadone, and phenobarbital.
Also Read: FDA approves new dosage of buprenorphine and naloxone for opioid dependence
The authors found that among the 18 studies included in the analysis, consisting of 1072 subjects buprenorphine was found to have the highest probability of being an optimal treatment for reducing the length of treatment and length of stay when compared with morphine and other therapies; morphine and phenobarbital monotherapies were found to be among the least effective treatments.
"These findings are of particular interest within the existing observational literature, which finds that morphine and phenobarbital are the most frequently used pharmacological approaches in the United States and Canada," wrote the authors.
Also Read: Buprenorphine-naloxone preferred first-line treatment for opioid use disorder -Canadian guidelines
However, owing to the considerable limitations of the evidence, the authors were unable to provide strong recommendations for any alternative therapy. "There is a need for a large multisite pragmatic trial that compares buprenorphine with other treatments before it can be universally accepted as a standard of care for treating NAS," they concluded.
For further reference log on to
10.1001/jamapediatrics.2018.5044