Breathalyzer- Future of cancer detection is almost here!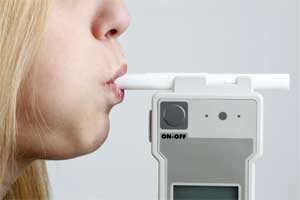 Breathing for just 10 minutes could detect cancer at an early stage.
United Kingdom: Cancer often goes unnoticed at early stages due to its presentation with vague symptoms. When people go to their GP with complaints of heartburn or indigestion, it becomes difficult for doctors to analyze whether cancer is to blamed or most often, something far less serious. At the moment, being offered a simple test that points either way, or flags those who need to go to a specialist for further tests, isn't possible across a wide range of cancers.
Now, a team of UK researches has launched a clinical trial that could bring a potential cancer test like this closer to the clinic. And all that is needed is a person's breath.
A team led by Professor Rebecca Fitzgerald, a Cancer Research UK-funded scientist from the MRC Cancer Unit at the University of Cambridge, have launched the PAN trial to test a cancer-detecting breathalyzer -- Breath Biopsy, designed by UK-based diagnostics company Owlstone Medical. The device is designed to detect volatile molecules from the breath to identify patients that might have early cancer that they don't know about -- and if it works as hoped, it could lead to a paradigm-shifting new era of non-invasive cancer screening.
"Intuitively, lung cancer seems the most obvious cancer to be detected in the breath," Fitzgerald said in a press release, adding that lung cancer breath studies using the Owlstone tech are already ongoing.
"But because of the way metabolites are recycled in the body, many other volatile molecules from other areas of the body end up in the breath too."
According to the Cancer Research UK press release, it will be the first trial to "investigate multiple cancer types."
If the trial goes well, the researchers believe Breath Biopsy could one day become a fixture in the offices of general practitioners, offering them an easy way to screen patients for a variety of cancers.
"There is increasing potential for breath-based tests to aid diagnosis, sitting alongside blood and urine tests in an effort to help doctors detect and treat disease," Owlstone CEO Billy Boyle said in the press release. "The concept of providing a whole-body snapshot in a completely non-invasive way is very powerful and could reduce harm by sparing patients from more invasive tests that they don't need."
For the trial, researchers will direct 1,500 participants to breathe into the device for 10 minutes each. The team is currently on the hunt for participants having suspected pancreatic, bladder, kidney, prostate, stomach, or esophageal cancer, and healthy people to serve as a control group.
After the collection of the samples, the team will figure out if the device can detect between the breath of people with cancer and healthy people. Their next step would be to find out if technology can differentiate between different cancer types, with the goal of publishing their research in 2021.
By looking across cancer types, this trial will help unpick if cancer signals are similar or different, and how early it's possible to pick these signals up. Some people will go on to be diagnosed with cancer, and their samples will be compared to those who don't develop the disease.
If the technology proves to accurately identify cancer, the team hope that breath biopsies could in future be used in GP practices to determine whether to refer patients for further diagnostic tests.