Breath analysis holds potential for diagnosis of esophagogastric cancer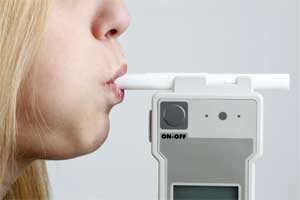 A breath analysis showed good diagnostic accuracy in noninvasive diagnosis of esophagogastric cancer (OGC) in the clinical settings, according to a published in the journal JAMA Oncology.
The multicenter validation study was conducted by Sheraz R. Markar, Department Surgery & Cancer, Imperial College London, United Kingdom, and colleagues to determine the accuracy of a breath test for the diagnosis of OGC in a multicenter setting.
The study is significant as early esophagogastric cancer stage presents with nonspecific symptoms which makes its diagnosis difficult. The alarm symptoms such as dysphagia and odynophagia only occur in advanced disease translating into a poor outcome and overall survival.
Volatile organic compounds (VOCs) have been researched as potential cancer biomarkers in several gastrointestinal malignancies including esophageal, gastric, and colorectal cancers. They are carbon-containing chemicals that can be eliminated through the breath as byproducts of their high vapor pressure leading to high rates of evaporation.
For the study, the investigators analyzed 335 patients, including 163 patients with OGC and 172 were in the control group. Patient recruitment for this diagnostic validation study was conducted at 3 London hospital sites, with breath samples returned to a central laboratory for selected ion flow tube mass spectrometry (SIFT-MS) analysis. Based on a 1:1 cancer: control ratio, and maintaining a sensitivity and specificity of 80%, the sample size required was 325 patients. All patients with cancer were on a curative treatment pathway, and patients were recruited consecutively.
The risk of cancer was identified based on a previously generated 5-VOCs model and compared with a histopathology-proven diagnosis.
Of the 163 patients with OGC, 123 (69%) had tumor stage T3/4, and 106 (65%) had nodal metastasis on clinical staging. The predictive probabilities generated by this 5-VOCs diagnostic model were used to generate a receiver operator characteristic curve, with good diagnostic accuracy, area under the curve of 0.85. This translated to a sensitivity of 80% and specificity of 81% for the diagnosis of OGC.
"Breath analysis holds potential in noninvasive diagnosis of OGC in the clinical setting. The next step is to establish the diagnostic accuracy of the test among the intended population in primary care where the test will be applied," concluded the authors.
For more information click on the link:
10.1001/jamaoncol.2018.0991
Source : With inputs from JAMA Oncology