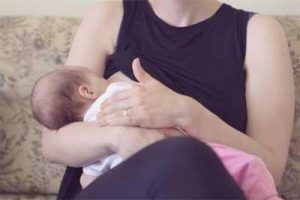 The American College of Obstetricians and Gynecologists', ACOG s' Expert Work Group and the Committee on Obstetric Practice has developed guidelines for making Breastfeeding as Part of Obstetric Practice. This is because obstetrician-gynecologists are uniquely positioned to enable women to achieve their infant feeding goals.
Breastfeeding should be promoted as  a public health priority because its  interruption   is associated with adverse health outcomes for the woman and her child, including higher maternal risks of breast cancer, ovarian cancer, diabetes, hypertension, and heart disease, and greater infant risks of infectious disease, sudden infant death syndrome, and metabolic diseases.
Main Recommendations are-
Education
Clinical management of lactation is a core component of reproductive health care.
Because lactation is an integral part of reproductive physiology, all obstetrician-gynecologists and other obstetric care providers should develop and maintain skills in anticipatory guidance, support for normal breastfeeding physiology, and management of common complications of lactation.
Support for Breastfeeding Women
Women are strongly encouraged to breastfeed and the American College of Obstetricians and Gynecologists supports each woman's right to breastfeed. It is recommended the infants should be exclusively breastfed for the first 6 months of life, with its continuation as complementary foods are introduced during the infant's first year of life, or longer, as mutually desired by the woman and her infant.
The advice and encouragement of the obstetrician-gynecologist and other obstetric care providers are critical in assisting women to make an informed infant feeding decision and should be free from coercion, pressure, or undue influence.
Obstetrician-gynecologists and other obstetric care providers should support each woman's informed decision about whether to initiate or continue breastfeeding, recognizing that she is uniquely qualified to decide whether exclusive breastfeeding, mixed feeding, or formula feeding is optimal for her and her infant.
When taking an obstetric history, obstetrician-gynecologists and other obstetric care providers should specifically ask about any breast surgeries, prior breastfeeding duration, and any previous breastfeeding difficulties.
It is an option for women who have undergone double mastectomy and reconstruction by feeding with a supplemental feeding tube device at the breast.
Women who experience difficulties in feeding child with breast milk are at higher risk of postpartum depression and should be screened, treated, and referred appropriately.
Most medications and vaccinations are safe for use during breastfeeding.
Obstetrician-gynecologists and other healthcare providers should consult lactation pharmacology resources for up-to-date information on individual medications because inappropriate advice often can lead women to discontinue breastfeeding unnecessarily.
Obstetrician-gynecologists and other obstetric care providers should support women who have given birth to preterm and other vulnerable infants to establish a full supply of milk by providing anticipatory guidance and working with hospital staff to facilitate early, frequent milk expression starting within 1 hour of delivery, if possible.
Policy
Obstetrician-gynecologists and other obstetric care providers should support women and encourage policies that enable women to integrate breastfeeding into their daily lives and in the workplace.
The World Health Organization's "Ten Steps to Successful Breastfeeding" should be integrated into maternity care to increase the likelihood that a woman will initiate and sustain breastfeeding and achieve her personal goals to breast feed.
Policies that protect the right of a woman and her child to breastfeed in public and that accommodate milk expression, such as insurance coverage for breast pumps, paid maternity leave, on-site childcare, break time for expressing milk, and a clean, private location for expressing milk, are essential for sustaining it.
For further reference log on to :
https://www.acog.org/Clinical-Guidance-and-Publications/Committee-Opinions/Committee-on-Obstetric-Practice/Optimizing-Support-for-Breastfeeding-as-Part-of-Obstetric-Practice