First: PGIMER neurosurgeons develop endoscopic classification of Dandy-Walker Syndrome in small children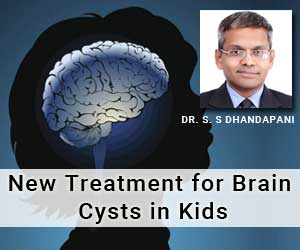 New Delhi: Team of neurosurgeons from the department of Neurosurgery at the Post Graduate Institute of Medical Education and Research (PGIMER), Chandigarh, have developed first ever endoscopic classification of pediatric posterior fossa cysts also known as Dandy-Walker Syndrome, DWS, in children younger than 5 years. The study appeared in the journal, World Neurosurgery.
Dandy-Walker malformation affects brain development, primarily development of the cerebellum--a part of the brain that coordinates movement. DWS is characterized by underdevelopment of the middle part of the cerebellum known as the cerebellar vermis, cystic enlargement of the 4th ventricle-- a space around the cerebellum that channels fluid from inside to around the outside of the brain, and enlargement of the base of the skull (posterior fossa). Individuals with this condition, often face problems with movement, coordination, intellect, mood, and other neurological functions. In 20-80% of the cases, DWS is associated with hydrocephalus-- a condition which causes accumulation of fluid inside the brain. Presently, ventriculoperitoneal shunts are one of the commonest tools used in the treatment of hydrocephalus.
"Brain cysts are one of the causes of hydrocephalus, a condition of increased fluid accumulation inside the brain. Hydrocephalus in children often presents with increasing head size, vomiting, or drowsiness. Many of these cysts have origins from before birth in mothers' uterus but present later. Most of the present classifications are pretty old, with no relevance to treatment. These cysts were once treated by open surgery, with much complications and a long recovery period. As a result, many surgeons were placing shunt tubes connecting cyst to the abdomen." said Dr. S.S Dhandapani, a neurosurgeon at PGI and the lead author of the study.
Explaining the drawbacks of the treatments available at present Dr Dhandapani said "This treatment also had issues due to the placement of indwelling foreign material for a long time. Over the past few decades, endoscopic surgery has become very helpful in dealing with these cysts using just a small hole. But, there was no way of knowing which type of endoscopic surgery may be beneficial in which category of patients. "
The authors categorized DRCC as type 0 for asymptomatic enlarged cistern Magna. Among symptomatic cases, cysts with a compressed fourth ventricle were labeled type 1, whereas cysts in continuity with the fourth ventricle were termed type 2. They were further categorized as subtype B if hydrocephalus was greater relative to the cyst, or otherwise as subtype A., The authors conducted a literature review as per the PRISMA guidelines.
This new classification proposed by Dr. SS Dhandapani and Dr.Sushant will be helpful to determine the optimal endoscopic approach for these patients. Dr. Dhandapani has also reported on a new technique of endoscopic surgery from behind the head in the same article. The new technique may also help to set a benchmark for neurosurgery in these disorders. The team at the Department of Neurosurgery, PGIMER, Chandigarh have much pioneering work to their credit in minimally invasive and endoscopic neurosurgery.
Key Findings of the study are as follows:


Out of 13 children aged 3–48 months type 1A DRCC was noted in 5 patients, with onset before 6 months, 4 of whom (80%) had intracranial hypertension.


All underwent suboccipital endoscopic deroofing and cisternostomy (SEDC), a new technique.


Type 1B DRCC was seen in 2 patients, with onset at 8–9 months, who underwent endoscopic third ventriculostomy (ETV) + endoscopic ventriculocystostomy (EVC).


Type 2A DRCC was observed in 4 patients, with onset at 5–47 months, who underwent SEDC.


Type 2B DRCC was noted in 2 patients, with onset 6–8 months, who underwent ETV.


With a mean follow-up of 32 months, all showed clinicoradiologic improvement.


The application of our classification to other studies showed ETV/EVC to be successful in only 67% of type 1A DRCC and 72% of type 2A DRCC, compared with 100% efficacy of SEDC in our series.


For more details, click on the link