Branchial Fistulas - Standard Treatment Guidelines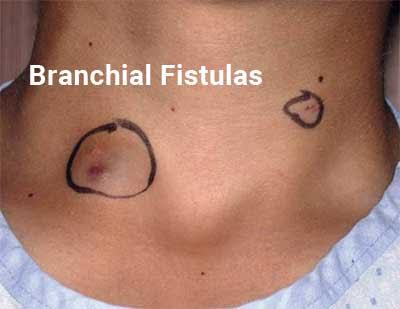 Branchial fistulas are uncommon anomalies of embryonic development of branchial apparatus. Second branchial arch and pouch anomalies are common anomalies of branchial apparatus.
Ministry of Health and Family Welfare, Government of India has issued the Standard Treatment Guidelines for Branchial Fistulas. Following are the major recommendations:
Definition:
During embryonic development, the second arch grows caudally; envelop the third, fourth and sixth arches and form the cervical sinus by fusing with the skin caudal to these arches. The edges of cervical sinus fuse and the ectoderm within the fused tube disappears. Persistence of ectoderm gives rise to branchial cyst.
The branchial fistula results from the breakdown of the endoderm, usually in the second pouch. A persistent fistula of the second branchial cleft and pouch pass from the external opening in the mid or lower neck in the line of the anterior border of the sternocleidomastoid muscle, deep to platysma along the carotid sheath, then pass medially deep between the internal and external carotid arteries after crossing over the glossopharyngeal nerve and hypoglossal nerve. Finally, it opens internally in the tonsillar fossa usually on the anterior face of the upper half of the posterior pillar of the fauces or in the intratonsillar cleft.
Most of the times it is a simple sinus opening that extend up the neck for a variable distance. Complete branchial fistula with internal opening into tonsillar region is rare.
Incidence in India:
Unknown. Although branchial fistulas may occur in any age group, commonly patients present to clinician in first and second decades of life.
Differential Diagnosis : sinus from an infected lymph node
Prevention and Counseling: NA
Optimal Diagnostic Criteria, Investigations, Treatment & Referral Criteria
Clinical Diagnosis:
1. History - Diagnosis is usually made clinically. Patient complains of mucopurulent discharge from an opening in lower lateral part of neck.
2. Examination – A small punctum in the skin at the junction of upper two third and lower one third of anterior border of sternocleidomastoid muscle.
Investigations:
The tract of fistula can be diagnosed by a dye test or fistulogram and sometimes negative preoperative test might become positive under general anaesthesia because of muscle relaxation. Occasionally the fistula tract may be blocked by thick secretions or granulation tissue.
Treatment: Surgical excision
Standard Operating Procedure : As in patient surgery should be performed
Referral Criteria:
depends upon competency of operating surgeon and available resources.
Guidelines by The Ministry of Health and Family Welfare :
Dr J M Hans Ex-HOD Dept. of Otorhinolaryngology Dr.RML Hospital New Delhi