'Brain Stroke' – an emerging risk among Young Indians: IANCON 2019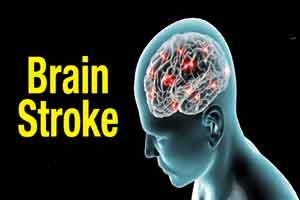 Hyderabad: Participants at the 27th Annual Conference of the Indian Academy of Neurology _ IANCON 2019 _ today highlighted the need for an enhanced awareness about the risks of brain stroke among young Indians. Partakers at the convention expressed grave concern over the fact that nearly 15% to 20% of the deaths reported due to brain strokes in recent years is among Indians under the age of 40 years.
A renowned Brain Stroke specialist Dr. Subash Kaul, who is also the Co-Chairman of IANCON 2019, the four days global convention being attended by nearly 2500 Neurosurgeons and Neuro Physicians from across India, and experts from over 18 countries around the World, stated that the convention forms an ideal platform for exchange of experiences, showcase expertise, and deliberate on recent advances in the management of debilitating neurological disorders like brain stroke.
Dr. Subash Kaul, who spoke out of his vast experience and expertise said that brain strokes can now be identified at an early stage, and the right intervention will help save the possible victim. Dr. Kaul also is hopeful on recently introduced thrombectomy procedures, which can help revive a victim within 6 hours of brain stroke. He further added that in the near future these procedures could be widely applicable, available, and be cost-effective.
During the symposia held at the conference, experts in Brain Stroke management discussed in detail about the goals of treatment to restore blood flow to the affected area of the brain as quickly as possible, i.e., within the first 2 to 6 hours after the onset of stroke symptoms.
According to experts the main very early treatments for ischemic stroke are:


Thrombolytic therapy – This involves giving a medication called alteplase or "tPA" by IV (through a vein) to break up the clot that is blocking blood flow to the brain.


Mechanical thrombectomy – This is a procedure that involves a specialist placing a catheter in the blocked artery and removing the clot using a "stent retriever device" or suction to reopen the blocked artery.


However, both thrombolytic therapy and mechanical thrombectomy require care in a hospital that has expertise in these areas and can coordinate emergency services, rapid consultation with a neurologist, intensive care services, and brain and vascular imaging with CT or MRI scans.
Source : IANCON 2019