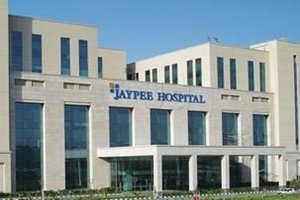 Noida : Jaypee Hospital, a multi super specialty hospital at sector 128 Noida, created two green corridors to give a new lease of life to six people. A heart, liver, two corneas and both the kidneys were donated by a brain dead patient admitted in the hospital.
Gita Devi, a resident of Pittoragarh, Uttrakhand aged 50 was declared brain dead by the doctors yesterday night.  ­­­­Her family members expressed their wish to donate her organs and save others life after her death.
As per the instructions of NOTTO, a liver and a kidney were transplanted by Jaypee Hospital, Noida while the heart was transported to Max Hospital, Saket at 6.30 am through a special 32 km green corridor in 20 minutes. The Kidney was transported to Max Hospital, Vaishali at 7.30 am through a 23.6 km corridor in about 18 minutes. Both the corneas were deposited at an eye bank, Noida.
The team of doctors who lead this mission comprised of Dr. Amit Devra, Senior Consultant, Kidney Transplant Department & Dr. Abhideep Chaudhary, Senior Consultant, Liver Transplant Department.
Dr. Manoj Luthra, CEO, Jaypee Hospital, Noida said, "We are thankful to the donor and her family who have taken this courageous step and have given a new life to six people. The patient has not died instead she will live in six different lives and in hearts of all of us for her kind act. Organs of a deceased patient can save lives of at least six people. It is a noble act and I am elated to see that people are gaining awareness about cadaveric organ donation. We are thankful to NOTTO for having a belief in Jaypee Hospital and helping us to lead this mission. We, at Jaypee Hospital have started an initiative called G.O.O.D (Gift of Organ Donation) to encourage people to come forward and give a gift of life to people by donating their organs."
 "We are proud of our sister for this noble act. All her life she has lived for others and after her death too she has been a reason for spreading happiness in six families by giving a new life to their loved ones", said Mahinder Kumar Joshi, younger brother of the deceased.
The liver of the deceased has been transplanted to a 42 year old male from Hapur, Uttar Pradesh while the transplanted kidney has saved a life of a 35 year old male, a resident of Dwarka.