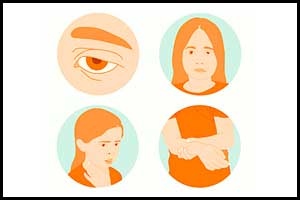 In a rare and first of its kind doctors have been able to restore the ability to walk in a boy paralyzed by acute flaccid myelitis (AFM).
The patient Brandon Noblitt 7 years male was struck by a  rare, polio-like condition in 2016 and was not able to walk. He was diagnosed to be suffering from acute flaccid myelitis which mostly affects children and the symptoms of which includes sudden arm or leg weakness, and reflex loss. As he was not able to walk, he was wheelchair bound.
Acute flaccid myelitis (AFM) is a rare condition. It affects a person's nervous system, specifically the spinal cord, causing weakness in one or more limbs. AFM or neurologic conditions like it have a variety of causes such as viruses and environmental toxins. Nearly 400 people in the United States have been diagnosed since 2014, according to the US Centers for Disease Control and Prevention. So far this year, there have been 72 confirmed cases in 24 states, CBS News reported.
Most people will have a sudden onset of arm or leg weakness and loss of muscle tone and reflexes. Some people, in addition to arm or leg weakness, will have:
facial droop/weakness,
difficulty moving the eyes,
drooping eyelids, or
a difficulty with swallowing or slurred speech.
The patient was taken to Amy Moore, MD, of Washington University in St. Louis for opinion and treatment. "My goal with the children with AFM was to restore hip stability, and then the motion of the upper legs," she told CBS News.
The patient received what doctors say is a first-of-its-kind surgery that allowed him to walk again. Dr Moore performed nerve transfer surgery on Brandon's leg at St. Louis Children's Hospital fourteen months ago,. She said she was the only doctor in the United States to perform nerve transfers on children's lower extremities. "I used what they have. They were wiggling their toes, and so I w According to Dr Moore, children typically respond best to this type of surgery because their nerves grow back more quickly. She said nerve transfers are most successful within nine months of diagnosis.as able to move a nerve that wiggles the toes to the hips," Moore told CBS News.
At a check-up held last week, Brandon was walking again.
CDC director Robert Redfield, MD, recently called for a special task force to investigate AFM, which affects about one in a million people. CDC has tested many different specimens from AFM patients for a wide range of pathogens that can cause AFM. To date, no pathogen (germ) has been consistently detected in the patients' spinal fluid; a pathogen detected in the spinal fluid would be good evidence to indicate the cause of AFM since this condition affects the spinal cord.