BMJ study proclaims Dosas as high calories food, not good for people on diet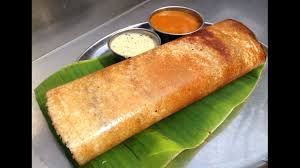 A new study proclaims Dosas as high calories food, not good for people on a diet. In fact, 2 masala dosas are sufficient to provide calories needed by an individual in a day.
Masala Dosa is one of the favourite South Indian dishes for most of us but this interesting fact revealed regarding dosas is surely going to surprise everyone.
According to a recent report published in the British Medical Journal, it has been proven that two masala dosas are enough to provide calories required in a day. A four-continent, five-nation study has quantified the calorific content of masala dosas sold in Bengaluru 1,023 kcal while an adult requires 2,200 kcal in a day.
Rebecca Kuriyan and associates conducted a cross-sectional survey in five countries to measure the energy content of frequently ordered meals from full service and fast food restaurants and compare values with US data.
Read Also: Vegan diet better than recommended diets for risk reduction of heart attack
The survey covered 23 meals from 111 randomly selected full service and fast food restaurants serving popular cuisines in Brazil, China, Finland, Ghana, and India. The data was compared data with the measured energy contents of the most frequently ordered US restaurant meals to test the hypothesis that large restaurant portions are not a phenomenon unique to the US and to identify other countries where portion sizes may be problematic.
The researchers defined the recommended calorific content of a single meal should be less than 100 kcal. The study found ninety-four per cent of full-service meals and 72% of fast food meals contained at least 600 kcal. The study revealed that except in China, consuming current servings of full service and a fast food meal daily would supply between 70% and 120% of the daily energy requirements for a sedentary woman, without additional meals, drinks, snacks, appetizers, or desserts.
Dosas are generally rich in carbs and also contain a good amount of fat, making them relatively high in calories.
Read Also: Low carb diets help burn more calories to maintain weight
In terms of calories, the best choice from the south Indian cuisine would be idlis. As per WHO idli is one of the healthiest breakfasts around the world. Each idli contains only 39 calories and no fats. They are steamed and not fried and easily digestible which makes it a healthy option.
The study suggested that the very high energy content of both full service and fast food restaurant meals may be an important contributor to the global obesity epidemic and a potentially impactful target for public health interventions. The very high dietary energy content of both full service and fast food restaurant meals is a widespread phenomenon that is probably supporting global obesity and provides a valid intervention target.
For full information log on to https://doi.org/10.1136/bmj.k4864
Source : With inputs from BMJ