BMJ study identifies risk factors for patellofemoral pain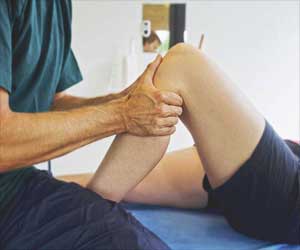 Quadriceps weakness in military recruits and higher hip strength in adolescents are the risk factors for patellofemoral pain (PFP), according to a recent review in the British Journal of Sports Medicine. The researchers stress that identifying modifiable risk factors is an urgent priority to improve prevention and treatment outcomes.
Patellofemoral pain is a prevalent condition commencing at various points throughout life in which cartilage underneath the knee cap gets damaged due to overuse or injury. PFP is a common pathology in both adolescents and adults with prevalence in the general population reported as 22.7%.
Patellofemoral pain(PFP) may be a precursor to patellofemoral osteoarthritis and is commonly reported across the various lifespan. In light of this, it becomes important to improve our understanding of the risk factors leading to PFP development and also, its incidence in differing populations is essential to prevent symptoms.
Bradley S Neal, Sports and Exercise Medicine, Queen Mary University of London, London, UK, and colleagues aimed to provide an evidence synthesis concerning predictive variables for PFP, to aid the development of preventative interventions.
For the purpose, they searched online databases until February 2017 for prospective studies that investigated at least one potential risk factor for future PFP. Two independent reviewers appraised methodological quality using the Newcastle–Ottawa Scale. Meta-analysis was conducted wherever deemed necessary.
This review included 18 studies involving 4818 participants, of whom 483 developed PFP (heterogeneous incidence 10%). Three distinct subgroups were identified as military recruits, adolescents and recreational runners.
Also Read: Management of Patellofemoral Pain : NATA Guideline
Key findings of the study include:


Strong to moderate evidence indicated that age, height, weight, body mass index (BMI), body fat and Q angle were not risk factors for future Patellofemoral pain(PFP).


Moderate evidence indicated that quadriceps weakness was a risk factor for future Patellofemoral pain(PFP) in the military, especially when normalised by BMI.


Moderate evidence indicated that hip weakness was not a risk factor for future PFP, but in adolescents, moderate evidence indicated that increased hip abduction strength was a risk factor for future PFP.


Also Read: New Injectable agent found safe & effective for improving knee function in OA patients
"Quadriceps weakness, measured using an isokinetic dynamometer and whether or not normalised to either bodyweight or BMI, is a risk factor for future Patellofemoral pain(PFP) in military recruits and should be investigated as a preventative strategy in a future randomised controlled trial," write the authors.
"While increased hip abduction strength is a risk factor for future PFP in adolescents, this may simply be a composite of activity level. Overall, our understanding of what contributes to the development of PFP is inadequate and requires further scientific exploration, although the relationship between given variables and PFP risk is likely to be both complex and individual," they concluded.