Blue Pill Viagra turns 20 and still going strong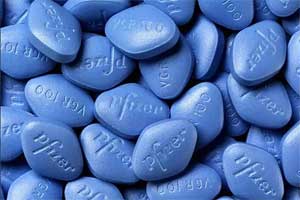 FDA approved Viagra as the first oral treatment for erectile dysfunction on Mar. 27, 1998, 20 years ago.The demand for the drug was so high in initial days of its launch that urologists bought rubber stamps so they could churn out prescriptions, as many as 10,000 scripts a day.According to an estimate, 4.3 million adult men suffer from erectile dysfunction in the UK. It is amazing that Pfizer scientists discovered the drug by accident in the '80s while researching a treatment for chest pain when they observed that the compound with which they were experimenting was increasing blood flow to the penis instead of the heart.It was a lucky breakthrough as a quick and painless way to treat erectile dysfunction (ED) which until then had limited treatments.Viagra marks the start of the marketing of sexual dysfunction as a social and individual problem. The sexual improvement revolution it sparked brightened up the sex lives of many couples, it largely left out women still struggling with dysfunction and loss of libido over time
According to the latest notification, men can now buy Viagra without a prescription at some UK pharmacies.It is therefore important that men should be aware of what all to consider before buying and trying Viagra.


Viagra is only for men who have impotence.


No-one under the age of 18 can buy it, although women might be able to buy it on behalf of their partner if the pharmacist is satisfied it is appropriate to dispense it.


It will not be sold to men who are not medically fit enough to have sex including men with severe heart or blood vessel problems.There is no requirement of physical examination or answering personal questions about a sex life or sexual preferences before getting the medicine.


The drug relaxes the blood vessels in the penis to help blood flow and will help achieve an erection in response to sexual stimulation but it is not effective for everyone.


It can be taken with or without food, although it may take a little longer to start working if you have just had a big meal.It needs to be taken about an hour before you plan to have sex.


Do not take it with grapefruit or grapefruit juice, because this can affect how the medicine works.


Do not take more than one 50 mg tablet per day.


Avoid drinking lots of alcohol as it can make it more difficult to get an erection.


Prolonged and sometimes painful erections lasting longer than four hours have been occasionally reported by men taking the drug for which immediate medical assistance may be sought.


Side Effects include


headache


dizziness


colour tinge to vision or blurred vision - some people start seeing a blue hue


hot flushes


blocked nose


nausea


Immediate medical attention is required n case of :


chest pain


sudden decrease or loss of vision


an allergic reaction (eg difficulty breathing, wheeze and swelling of the lips, eyelids or face)


a seizure or fit


Drug Interactions -
People on nitrate pills for angina should not take Viagra. There is also known drug interaction with a medicine called riociguat and an HIV medication called ritonavir.Patients should be advised to consult their doctor within six months of starting on Viagra as erectile dysfunction can sometimes be a sign of other underlying conditions, including heart disease, high cholesterol, and diabetes.
Viagra cost about $15 per pill when it first came out, and rose to more than $50. There has been some competition from competitive brands especially after a price hike in the US but Pfizer has rolled out a generic version in the United States last year, lowering the price per pill to less than $1. Even if the name-brand drug is no longer the market force it once was but no one can question its impact on two decades of conversation about modern sex which has been absolutely incredible.