Blood test in first trimester may predict gestational diabetes: NIH Study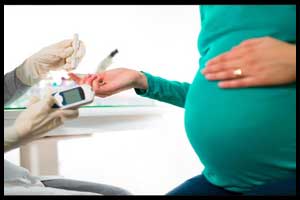 Hemoglobin A1C (HbA1c) measured in the first trimester improved the prediction of gestational diabetes mellitus (GDM) in a cohort of low-risk women without pre-existing medical conditions, according to a new study published in the Scientific Reports.
Stefanie N. Hinkle, National Institutes of Health, U.S., and colleagues conducted the study to examine the prospective association between first trimester HbA1c and GDM, and explore the utility of HbA1c for prediction of GDM.
Gestational diabetes is an increase in the levels blood glucose, or sugar during pregnancy. It is a common pregnancy complication and is associated with adverse fetal and maternal outcomes including an increased risk for type 2 diabetes and cardiovascular disease later in life in mothers and an increased risk for macrosomia and obesity in offspring.
Also Read: Gestational diabetes increases risk of heart disease in baby ,Study finds
HbA1c, a measure of glycated hemoglobin which serves as an indicator of blood glucose control in the prior 3–4 months, may be an avenue for earlier identification of women at risk for GDM. However, while HbA1c is currently used among high-risk women at the first prenatal visit to identify women with overt type 2 diabetes (T2D), it is not currently used to screen for GDM. According to the authors, a few prior studies have examined if HbA1c measured in the first trimester is useful for early prediction of GDM; however, these studies have been among high-risk populations only.
For the study, the researchers analyzed records from the NICHD Fetal Growth Study, a large observational study that recruited more than 2,000 low-risk pregnant women from 12 U.S. clinical sites between 2009 and 2013. The researchers compared HbA1c test results from 107 women who later developed gestational diabetes to test results from 214 women who did not develop the condition. Most of the women had tests at four intervals during pregnancy: early (weeks 8-13), middle (weeks 16-22 and 24-29) and late (weeks 34-37).
Key Results:


Women who went on to develop gestational diabetes had higher HbA1c levels (an average of 5.3 percent), compared to those without GDM (an average HbA1c level of 5.1 percent).


Each .1 percent increase in HbA1c above 5.1 percent in early pregnancy was associated with a 22-percent higher risk for gestational diabetes.


In middle pregnancy, HbA1c levels declined for both groups.


However, HbA1c levels increased in the final third of pregnancy, which is consistent with the decrease in sensitivity to insulin that often occurs during this time period.


With increasing levels of HbA1c, GDM risk increased significantly and in a linear fashion.


Exercise and a healthy diet may lower blood glucose levels during pregnancy. If these measures are not successful, physicians may prescribe insulin to bring blood glucose under control.
"Our comprehensive findings suggest the potential important clinical utility of HbA1c measurement in the first trimester of pregnancy, even among low-risk women. While our findings require replication, GDM prediction was significantly improved with the inclusion of HbA1c over conventional risk factors suggesting that it could be used to improve early risk-stratification and screening in women with elevated levels," concluded the authors"Furthermore, our findings suggest that hyperglycemia even among women without pre-pregnancy diabetes may be important for the development of GDM. These findings can be utilized to inform future intervention studies."
For more information follow the link:
http://dx.doi.org/10.1038/s41598-018-30833-8
Source : With inputs from�Scientific Reports