Blood test and ECG sufficient to safely rule out MI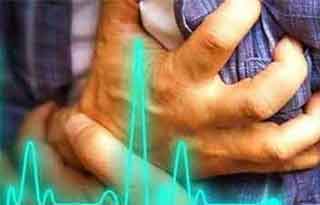 In a meta-analysis published in Annals of Internal Medicine researchers have found that a new high-sensitivity troponin T (hs-cTnT) assay and normal ECG can accurately rule out heart attack in the emergency department. This substantiates current NICE guidance on chest pain (updated 2016) which recommends that patients with a suspected heart attack should receive an ECG and high sensitivity troponin test on hospital arrival.If patients do not have the typical ECG features of a heart attack (ST elevation), a repeat high sensitivity
Each year about 150,000 men and women in the UK suffer a heart attack, but over 700,000 attend hospital emergency departments with chest pain. Patients with a heart attack usually have a blockage in one of the arteries supplying blood to the heart and they need urgent treatment to restore the blood supply to prevent damage to the heart. Therefore the doctors need to quickly identify a patient of heart attack and rule-out other patients of chest pain to avoid unnecessary hospital admission, investigations and treatment.
In the present review the researchers identified 11 cohorts including 9,241 adults presenting to the emergency department with chest pain. All received an ECG and high bias. Individual studies varied in patient characteristics, timing and number of troponin tests, and their results. These factors may make sensitivity troponin below threshold (95% sensitivity was 98.7% (95% CI 96.6% to 99.5%) and was good across studies, ranging from 87.5% to 100%.
30.6% of patients with chest pain were defined as low risk and tested negative, with a normal ECG and high confidence interval [CI] 3.8% to 73.5%).
These patients, testing negative, were almost certain not to have had a heart attack. The pooled negative predictive value was 99.3% (95% CI 97.3% to 99.8%).
There were limitations as the test gave a high number of false 'positive' results in people without a heart attack. Pooled Specificity was low across studies but highly variable, ranging from 5% to 79%. Overall less than a quarter of people testing positive had a heart attack (positive predictive value 22%, 95% CI 19% to 27%).
The test accurately identified almost all patients who died or had a major cardiac sensitivity 98.0%, 95% CI 94.7% to 99.3%). A total of 126 patients died (1.3% of the cohort), none of whom was in the low risk/test negative category.
Troponin measurement is not recommended for people presenting with chest pain who are not clinically suspected of having a heart attack.
For more details click on the link :
http://annals.org/aim/article/2619006/rapid-rule-out-acute-myocardial-infarction-single-high-sensitivity-cardiac