Blood sugar testing by CGM cost effective compared to finger prick during T1 Diabetes Pregnancy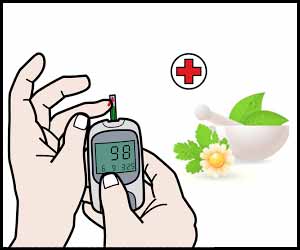 Blood sugar testing by continuous glucose monitoring ( CGM) is cost-effective compared to finger prick testing during Type 1 Diabetes Pregnancy finds a clinical trial. The results of the analysis were presented at this year's American Diabetes Association (ADA) 2019 Scientific Sessions.
It is an integral part of every diabetes control to monitor blood sugar, of course, the mode of blood sugar testing may differ. The blood sugar testing for patients of type 1 diabetes patients during pregnancy is essential but it may be finger prick or by continuous glucose monitoring, depending on individual choice.
A cost-effectiveness analysis of the CONCEPTT randomised controlled trial (RCT) data, continuous glucose monitoring (CGM) in pregnant women with type 1 diabetes saves £2500 per pregnancy and birth compared with pregnancy using finger-prick testing.
The analysis was based on findings from the CONCEPTT trial in which the neonatal cost-effectiveness calculations showed that the cost of providing standard care with CGM was less than that without. The findings will come handy for publicly-funded healthcare system like the NHS, where there will be saving of £2500 with use of CGM during pregnancy in mothers with type 1 diabetes because CGM is more effective than capillary blood sugar monitoring.
The CONCEPTT trial was conducted to evaluate whether there was a benefit or not in terms of blood sugar control in pregnant mothers with type 1 diabetes who used CGM compared with capillary glucose monitoring. The trial found that CGM improved newborn health outcomes compared with capillary monitoring of blood sugar and large for gestational age babies were observed in 53% and 69% of births in CGM versus control groups respectively. The proportion of neonatal intensive care unit (NICU) admissions for longer than 24 hours was 27% in the CGM arm versus 43% in the control arm.
The researchers wanted to look at the cost implications of integrating CGM into standard antenatal diabetes care, in this cost-effectiveness analysis.
They found that in terms of healthcare resource utilisation, the cost of standard antenatal care for a woman with type 1 diabetes (with capillary monitoring of blood glucose) was estimated at around £6500. The direct cost of instituting CGM from approximately 10 weeks of gestation until delivery was £1700, assuming each sensor costs £52 (thirty-three sensors across pregnancy). In addition, the costs of diabetes nurse specialists and dieticians were included, so the total additional costs of implementing CGM throughout pregnancy was approximately £2050.
By making continuous glucose monitoring technology available to all women with type 1 diabetes during pregnancy could lead to significant cost savings for the NHS. Moreover, CGM could offer a better way to help pregnant women with type 1 diabetes keep their blood glucose levels in a safe range, to keep both mother and baby healthy.