Blood sugar levels in children increase on long-time exposure to air pollution, finds study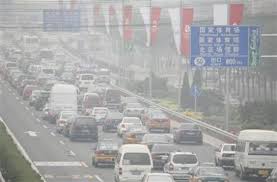 China: Children and adolescents exposed to particulate matter (PM) air pollution for a long time are at risk for an increased level of blood sugar, suggests a recent study published in the journal Science of The Total Environment. Exposure to PM1 and PM2.5 was associated with even higher blood sugar levels.
Particulate pollution is pollution of an environment that consists of particles suspended in some medium. Particulate matter is the sum of all solid and liquid particles suspended in air many of which are hazardous. This complex mixture includes both inorganic and organic particles, such as liquid droplets, smoke, soot, pollen and dust.
The health effects of particulate matter air pollution on glucose metabolism have been rarely examined in children and adolescents. Zilong Zhang, Peking University, Beijing, China, and colleagues aimed to investigate the associations between long-term exposure to PM and blood glucose and prevalence of impaired fasting glucose in a large population of Chinese children and adolescents.
For the purpose, the researchers recruited a total of 11,814 children and adolescents aged 7 to 18 years from seven provinces/municipalities in China. For the measurement of blood sugar, fasting blood sugar sample was taken. Satellite-based spatial-temporal models were used to estimate exposure to ambient submicrometer particles (PM1), fine particles (PM2.5) and thoracic particles (PM10).
Also Read: High household pollution tied to high BP in women
Key findings of the study include:


After adjustment for a range of covariates, every 10 μg/m3 increment in PM1, PM2.5 and PM10 concentrations was associated with 0.160, 0.150 and 0.079 mmol/L higher blood sugar levels, respectively.


PM exposure was also associated with higher prevalence of impaired fasting glucose, but the associations did not reach statistical significance [odds ratio per 10 μg/m3 increment in PM1, PM2.5 and PM10: 1.30, 1.20 and 1.08.


Also Read: Air Pollution may precipitate attacks of psychosis in teenagers: JAMA
"We found that long-term exposure to PM air pollution was associated with increased levels of blood sugar in children and adolescents. The associations were more evident for PM1 and PM2.5," concluded the authors.
To read the complete study log on to https://doi.org/10.1016/j.scitotenv.2019.07.179