High blood sugar in males and elderly negatively impacts cancer treatment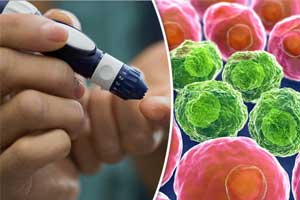 China: Males and older patients with uncontrolled high blood sugar or hyperglycemia are more likely to suffer following doxorubicin-induced hyperglycaemia-related adverse drug reactions (HG-ADRs), a new study published in the Diabetes Therapy journal has found.
Doxorubicin (Adriamycin) is a chemotherapy medication used for the treatment of breast cancer, lung cancer, acute leukaemia, and malignant lymphoma. Its adverse drug reactions (ADRs) include bone marrow suppression, ulcer, cardiotoxicity, gastrointestinal reaction, liver and kidney dysfunction, and alopecia.
The impact of high blood sugar on remission and survival in cancer patients has attracted considerable attention. It was seen that diabetic patients are at increased risk of developing various types of cancer and mortality rates from various cancer types are higher in patients with hyperglycaemia-associated pathologies. Among antineoplastics for treating pancreatic carcinoma, doxorubicin was found to be top of the list for inducing hyperglycaemia-related adverse drug reactions.
In order to determine the risk factors for hyperglycaemia or high blood sugar, Jincheng Yang, Peking Union Medical College, Beijing, China, and colleagues investigated doxorubicin-induced HG-ADR using the WHO Global Pharmacovigilance Database.
The researchers extracted individual case safety reports of doxorubicin-induced HG-ADRs submitted during the period 2000-2017 from the VigiBase. The study included 558 people with high blood glucose (average patient age; 55.9 ± 14.3 years).
Also Read: Elevated Blood sugar in diabetes may damage DNA and lead to cancer
Key findings include:


Among the 558 cases, 71.1% had serious outcomes and 10.9% died.


Three factors-died, age, and gender-were all found to be significantly correlated with outcome seriousness, while five factors-year reported, ADR duration, latency, treatment duration, and dosage-showed no correlation with outcome seriousness.


Identical conclusions were reached upon analyzing only the cases that did not involve corticosteroid use.


Also Read: Diabetes increases Gastric Cancer risk after treatment for H. Pylori infection, finds study
"Age and gender are risk factors for doxorubicin-induced serious HG-adverse drug reactions; males and older patients are more likely to suffer a serious outcome following such a reaction," write the authors.
"These two groups (males and the elderly) should be monitored more closely during doxorubicin treatment, especially if they are using corticosteroids. More investigations of other drugs are needed to identify whether drug-induced hyperglycaemia is a non-dose-dependent adverse reaction," they concluded.
Cite this article as Yang, J., Wang, Y., Liu, K. et al. Diabetes Ther (2019). https://doi.org/10.1007/s13300-019-00677-0